World Cup
'I can't accept that' - Craig Foster's Socceroos disappointment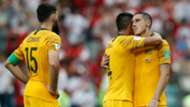 The Socceroos have exited the 2018 World Cup with a tough 2-0 loss to Peru to finish bottom of Group C and have just one point to show for their efforts.
While Australia gave a good account of themselves in all three games, it's another case of what could have been as the green and gold continue to struggle in front of goal.
For former Socceroo Craig Foster, he believes the Socceroos have again fallen short of what they are capable of. 
"There is no question that we could have done more," Foster said on SBS post-match. 
"In my view, we haven't learnt from the last four years and we've come here and according to the style of play, the guys executed it extremely well, but Australia's capable of more.
"We're capable of much more against Denmark and the real problem for Australia is that if we'd actually won this game and gone through … I would have preferred that France won, so that we can feel more pain right now.
"Otherwise it is just another moment where everyone feels we almost got there. We walk away. We dust ourselves off and learn very little, if anything, and then move on to the next campaign."
After losing all three games at the 2014 World Cup in Brazil, Russia was a marked improvement for Australia but they couldn't make the most of their chances.
While full of praise for the efforts of the players, Foster wants the Socceroos to be pushing themselves further and not settling for what they're currently getting on the world stage.
"We threw out of a plan of four years and went with a completely different strategy and in the end, we should be looking at it and saying, 'when we went at these teams, we showed what we could do it,' but we didn't do it enough," he said.
"That wasn't the Australian way, no. That was the qualities of Australians — that's true. And the guys went and gave everything and you can see what they've spent in pursuit of making their nation proud. That's normal.
"We know these guys are capable of that, but that wasn't what we're capable of in terms of a football country. I can't accept that."