African All Stars
Dolly's big test against PSG: How is he progressing in France's Ligue 1?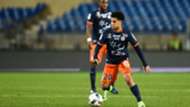 Montpellier lock horns with French giants Paris Saint Germain on Saturday evening, giving South Africa international Keagan Dolly his toughest test to date.
Since making the move to Europe, Dolly is yet to live up to the heights which he set during his time at the African Champions Mamelodi Sundowns. But despite Dolly's struggles, South African's remain hopeful that the 24-year-old will start to kick into gear as he enters his first full season in the French Ligue 1.
However, Dolly's start to the new season has not been the most impressive. The Bafana Bafana star has only racked up 140 minutes of playing time, starting only a solitary game under new coach Michel Der Zakarian following the departure of Jean-Louis Gasset after less than six months in charge at La Paillade.
Nonetheless, the encounter against The Parisians gives Dolly the perfect platform to impress his new boss where he will have an opportunity to go up against one of football's most exciting attacks. But it should be mentioned that PSG's star Neymar is reportedly set to miss the clash due a foot injury.
The Brazilian is regarded as the one of the best footballers in the world as well as the most expensive in history, and Dolly would surely have been relishing the prospect of once again facing off against the player he outshone during the game between South Africa and Brazil at the 2016 Olympic games in Rio.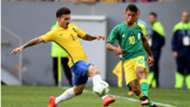 Meanwhile, ahead of Saturday's crunch encounter, Goal analysed Dolly's statistics so far this season. While it has not been the best of starts for Dolly, it should be noted that Dolly has begun to show glimpses of what he can offer the French side. He has been unable to find the back of the net, most importantly, Dolly's creativity has seemingly come to the fore over the last few games. According to Opta Stats, Dolly has created eight chances in his four appearances thus far, which is not a bad return. 
Although, it should be mentioned that Dolly is yet to form an on-field relationship with a relatively new Montpellier strike force after Steve Mounie departed for Huddersfield Town during the July/August transfer window, it has shown in the fact that he has no assists in the league this season.
Despite Dolly making only a handful of appearances, he is beginning to show improvement particularly in his passing. The former Ajax Cape Town playmaker has completed 54 out of a total of 61 passes which gives him a passing accuracy of 88.52%, which is surprisingly better than Neymar's 77%. But there still remains aspects of Dolly's game which require considerable improvement. Most notably, Dolly has a disappointing shooting accuracy of 33%, and for someone who is seen as being technically sound and a magician with the ball at his feet, he has only completed three dribbles and lost possession a total of 28 times.
Defensively though, this is where Dolly's game has evolved. While this could be down to a number of reasons considering Montpellier's struggles of late, Dolly's 100% tackle success rate is something to be proud of.
Nevertheless, it remains to be seen whether or not, Dolly will start against PSG and just what kind of impact he will be able to deliver on the night should he be given a chance.