Leicester City
How have Leicester gone from champions to relegation candidates?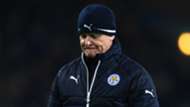 ---
COMMENT
---
The greatest fairytale in sporting history has turned into the most heart-breaking nightmare. Last season, the affable, gentlemanly Claudio Ranieri led a group of misfits who just months before had been engrossed in a relegation battle to a miraculous Premier League title victory.
Their underdog story saw talk of a Hollywood production raised, but less than a year later the script has changed dramatically. With Ranieri's dressing room now said to be in disarray, Leicester find themselves just a point above the bottom three after losing five league games in a row with no goals scored.
So what has gone wrong?
"It's difficult to say what is wrong because we are doing the same things as last season," Ranieri said recently. "Last season everything was fantastic, now everything is wrong. That is not possible. For this reason, it is important to stay together, to work the same as last year."
Ranieri: Leicester underdogs vs Millwall
Indeed, little has changed for Leicester on the playing side since that iconic moment when Ranieri silenced the King Power Stadium with a single gesture in order to allow opera legend Andrea Bocelli to sing Nessun Dorma. Key men Jamie Vardy, Riyad Mahrez and Danny Drinkwater all remained, with N'Golo Kante's move to Chelsea the only big departure.
Leicester have found the transition from underdogs to champions very difficult. Last season, they preyed on being the little guy that everyone was supposed to beat. They could sit back and hide in the shadows, only to devastate opponents with a lethal counter-attack. Now the emphasis has switched, as champions there is a natural expectation for them to be wolves and to go out hunting. Their game plan has changed, they have played more on the front-foot while when they have resorted to counter-attacking their tactics are no longer working.
That has resulted in Leicester's effectiveness being a fraction of what it was last term. After 22 Premier League games, Vardy has five goals from 30 shots in total – nine have been on target. He won't get near the 24 goals, 115 shots and 53 on target from 36 games last season. His effectiveness outside the area has diminished significantly too as he is not creating many chances, nor is he finding any room to run at defenders.
Similar regression has struck Mahrez (three goals from 49 shots this term compared to 17 from 86 last term), Marc Albrighton and Drinkwater. Ismail Slimani has, at least, added a new threat, having scored five and made three assists in just 14 appearances in the league and he has popped up at crucial times, netting the only goal against West Ham and the late penalty in a 2-2 draw with Middlesbrough.
The drop in effectiveness in attack and defence is reflected by Opta's Expected Goals (xG) model, which measures how likely a shot is to find the net based on distance to the goal, angle to the goal, assist type, whether or not it was headed and a variety of other factors, giving it a value between 0 and 1. So, for example, 0.3 xG means a shot will typically be scored 30% of the time.
Last season, Leicester's xG value was the second highest in the league at 69.9, behind Arsenal's 70.73. However, their Expected Goals Against (xGA) was quite high, combining to make an Expected Goal Difference (xGD) of 22.8 – the fourth best in the division. While that suggests they got lucky last season, the attacking potency that stunned so many opponents is evident. In 2016-17, though, their xG of 27.35 and xGD of -5.02 suggests that they are a mid-table side. By that rating, they have been unlucky this season, but the drop in quality is remarkable for a team that lost just one big player after a championship campaign.
When it is narrowed down to their league games this calendar year – five losses with no goals scored – things look particularly dismal. Since the turn of the year, their xG value is the worst in the league (4.06), and only Hull City, Watford, Sunderland and Swansea have a lower xGD than Leicester's -3.81, suggesting this team are as poor as their form and position in the table would have you believe.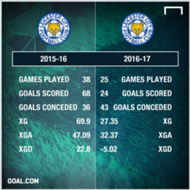 In an attempt to arrest the decline, Ranieri has switched Leicester's 4-4-2 formation around this term, rarely having dared to do so last year, yet there has been hardly any change to the way they attack. They continue to move forward with pace, but against wiser opponents it is tougher for them to get into dangerous areas when the key attackers are properly covered. Manchester City suffered the consequences of affording space to race into in Pep Guardiola's first clash with the champions. Vardy and Mahrez were back to their best as a result, but this has been a rare occurrence this term.
At the other end, Leicester have a tendency to make it easy for opponents. With no protection to the defensive line, opposition attackers are fully capitalising on the open space in and around the box. Kante's incredible season with Chelsea says a great deal about the quality of player Leicester lost in him, as it seems like they are suffering the loss of more than just one crucial component.
Their entire system was built around Kante due to his ability to cover almost the entire pitch. The protection he offered gave Vardy, Mahrez and even Drinkwater the freedom to flourish offensively. Kante has not been replaced, seeing a shining midfield plummet into defensive chaos. It is exacerbated by the poor performances of centre backs Wes Morgan and Robert Huth, who were rocks at the back last term.
"We can't keep a clean-sheet and we concede at the worst times it seems, and we can't bounce back from it at the moment," was captain Morgan's assessment of the situation.
Bizarrely, Leicester have impressed in the Champions League, topping their group and booking a last 16 clash against Sevilla. It will be interesting to see whether being the underdogs will bring the best out of them against Jorge Sampaoli's men. They also remain in the FA Cup.
But of more pressing importance is Leicester ending their dreadful run of form in the Premier League. If they don't then relegation into the Championship is a guarantee for last year's shock title winners.