European Championship
Hodgson defends Rooney after pushing Kane & Vardy wide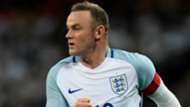 England manager Roy Hodgson has defended Wayne Rooney after the Three Lions' unconvincing 1-0 win over Portugal, and maintains that his captain can play anywhere on the pitch.
Rooney ended the season with Manchester United in midfield, playing a key role as the club beat Crystal Palace in the FA Cup final at Wembley, but the 30-year-old was deployed in a central striker's role in England's final Euro 2016 warm-up friendly on Thursday.
Jamie Vardy and Harry Kane, who scored 49 Premier League goals between them for Leicester City and Tottenham in 2015-16, were subsequently pushed wide to accomodate Rooney but Hodgson has launched a robust defence of the United forward, and insists his selection dilemma is a good thing.
"I'm not prepared to make this the Wayne Rooney show," Hodgson, who bristled at repeated questions about the player, told reporters.
"You're talking about the player who has played 111 games for England and scored 53 goals so perhaps his best position is anywhere on the field.
"It's a good problem to have, shoehorning in attacking players. I don't think for a long time that I've had that, a lot of good attacking players to shoehorn so you won't find me complaining about that. 
"You would find me complaining if we weren't defending as a team, conceding lots of goals chances and every time we played we needed to score three to win a game so I've seen no evidence of that."
England face Russia in the opening game of Euro 2016 on June 11, and fly out to France on Monday.