Transfers
Hazard FC: Can Kylian Hazard follow his brother Eden at Chelsea?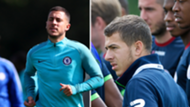 Eden Hazard's brother Kylian joined Chelsea along with six other players this summer but he has yet to feature in a match-day squad. 
Kylian is training with Chelsea's Under-23 side but, to date, he has not even made an appearance at that level.  However, he was used in first-team training sessions over the international break to bulk up the numbers while players were away representing their respective countries.
Chelsea 5/1 to win PL with dabblebet
However, even after working closely with coach Antonio Conte, it is unlikely we will see the new signing appear against Nottinham Forest in Wednesday's Carabao Cup clash at Stamford Bridge, with so much competition for places at the club. 
The 22-year-old Kylian is the second youngest in a family four children. Eden is the eldest and considered one of the finest footballers in the world, while his brother Thorgan is a Belgium international who had a short spell at Chelsea before joining Borussia Monchengladbach.
The youngest of the Hazard boys, Ethan, is still only 14 and he is attending school in Belgium. He also plays football, though, and is in the academy at Tubize, the club where it all started for Eden and his brothers. Their parents, Carine and Thierry, are both former players making the Hazards a true football family. 
Kylian is now the third brother to join Chelsea but does he really have a chance of making the grade in west London? Even Thorgan Hazard wasn't deemed good enough and he has since earned his fifth cap for Belgium. 
Kylian has been the least successful of the Hazard brothers so far, having started out with White Star Brussels before then moving to Zulte-Waregem. He arrives at Chelsea from Ujpest, though, having played 42 times for the Budapest outfit. 
Goal journalist Zoltan Sebok is the brother of former Ujpest player Vilmos Sebok and is a regular at the capital club's matches. He says that Kylian has a similar style of play to Eden and that he impressed people with his performances in the Hungarian First Division. 
"He was a popular player, but I think it came from his name and family relationship with Eden," said Sebok. "He is skilful, quick too, but only by Hungarian football standards, as the Premier League is on another level.
"He played 34 matches in NB I [the Hungarian First Division] and eight matches in Hungarian Cup between 2015 and 2017. His first season was successful, but in the 2016-17 campaign, he got a serious knee injury, so he played only a few times.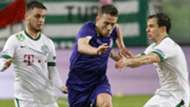 "His free-kicks were dangerous and he was also a threat in wide areas, but he scored only three goals, so he needs to improve his finishing. He had also problem with his physical condition as he was injured a lot; he needs more muscle.
"He is not good enough for Chelsea now. He is below the current first-team players at Stamford Bridge. He has good skills, though, and he is still only 22, so he may can become a good Premier League player in the future."
Thorgan Hazard echoed this assessment on his brother's style of play in an interview with Goal last February. 
"We try to play good football - I like to play central," he explained. "Eden can play more on the left or right side. Kylian can also play a bit more left or right.
"We like to play in attack. This is the Hazard way! We try to score and we try to assist and be exciting." 
Eden, meanwhile, spoke about his brother's arrival at Chelsea while away with the Belgium national team. He revealed that is was at his request that Antonio Conte brought him to the Bridge.
"He wanted a new challenge," Eden said at a press conference in Belgium. "I asked if maybe the manager could do something for him and they did. Not with first team because it's too early and he's not good enough yet [smiles] but I hope one day I get to play with him."
There is no doubt that keeping Eden happy is one of Chelsea's primary goals right now, with contract talks approaching and Real Madrid waiting for any opportunity to sign the Blues' superstar.
Kylian's signing obviously ties into persuading Eden to stay at Stamford Bridge but the younger sibling has ambitions of his own. "I want to play for Belgium just like my brothers," Kylian told Goal while a player at Ujpest.
Kylian is a long way from realising that dream but the influence of 'Hazard FC' at Chelsea might just help him to take that next step.