Eden Hazard
Hazard could score 40 goals a season... if he played at Man City or Liverpool – Pearce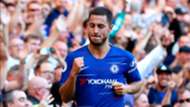 Eden Hazard has the potential to score 40 times in a season, according to ex-England international Stuart Pearce, but it will be impossible for him to do so at Chelsea.
The Belgium international winger has started the season in electric form for Maurizio Sarri's men, netting five times in the Premier League already this term. 
After scoring a treble on Saturday against Cardiff, Sarri instructed his player to net 40 times this season and win the Premier League Golden Boot.
Pearce believes that if the 27-year-old was playing in a stronger side that dominate more games, that figure would not be unrealistic.
"I'm not sure Chelsea will dominate the league enough to create enough chances for Hazard to get 40 goals, because of Liverpool and Manchester City," he told Sky Sports.
"Put him in the Liverpool and Manchester City team at this moment in time and I think he might be able to."
Pearce is surprised that Hazard, who has been repeatedly linked to Real Madrid, has not yet been lured away from the Stamford Bridge side. 
"He's a low-maintenance footballer, I think, Chelsea have done really well to hang onto him for the past couple of years," he said.
"I would have thought other clubs might have put money down to take Hazard away from them - he's the one player that gives Chelsea potential championship-winning ability.
"He's got so much ability, and works hard for the team as well, when you throw that in the mix, he's one of these that you need to keep educating, keep testing him in regards to whether you can improve him, but also make sure you tell him how well he is doing."
Hazard has been at Chelsea since 2012, when he arrived from Lille. Since then, he has struck 94 times for the Blues and has played 305 times for them. He has won the Premier League trophies at Stamford Bridge as well as the Europa League in 2013, plus he claimed the Premier League Player of the Season prize in 2015