World Cup
Hayatou demanding even more World Cup spots for Africa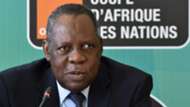 Caf President Issa Hayatou has insisted that Africa deserves 10 spots at the enlarged World Cup, after Gianni Infantino previously revealed the continent will receive a minimum of seven places.
Africa received five places at the 2014 World Cup, down from six in 2010 when hosts South Africa ensured a record representation at the global showpiece, but the continent is hopeful of more spots when the event is increased from 2026.
With Infantino in attendance, Hayatou took the opportunity of his opening speech at Caf's 39th General Assembly on Thursday to call on Fifa to give the continent 10 places.
Later in the day, the 70-year-old will learn whether he is to continue as the president of Caf,
In a recent interview, he insisted that Africa deserved 9.5 spots, but despite Infantino confirming that the continent would be looking at a minimum of seven places, the Cameroonian football administrator wants more.
"Today we have good reasons to imagine that, in a World Cup format enlarged to 48, ten representatives for Africa would be a commensurate expectation considering the level of development of our football," Hayatou told the assembled Caf exec, federation presidents and journalists in Addis Ababa, "and what our continent represents within FIFA.
"With your support, you members, we are sure of attaining this goal," he added. "It has always been with great self-esteem that Africa asserted itself onto the global football platform, sure of its right.
"Without compromising, she was able to contract partnerships when that was necessary to increase her presence."
Africa's representation at the World Cup has often been a bone of contention, with only 13 of the 55 member associations having after featured at the global high table.
The continent only had one representative until 1982, and were only afforded a third spot in 1994.