Chelsea
Guinness Choose Your Side: Chelsea vs. Newcastle United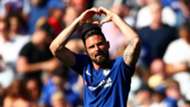 Why Chelsea will win by Sandile Ndumo
Chelsea head into this match knowing that they have an outside chance of qualifying for the Champions League next season. They will also be out to make amends for their failure to win in midweek, which might have potentially cost them a spot in the Champions League. Other than that, it will also be a great way to end the campaign with a win. 
Chelsea's match winner
Olivier Giroud has scored four goals in Chelsea's last six matches. He is certainly going to go out there and raise his hand one last time to show Didier Deschamps that he deserves a spot in France's World Cup squad. He will also look to prove to the Chelsea faithful that he can be their leading talisman in the new season too. Giroud and Eden Hazard should also start this time, so they should score more goals than they did in midweek. 
My score prediction:  Chelsea 3-1 Newcastle United 
This fixture is historically a match of many goals and I do not see that changing given that Chelsea desperately need to win. Furthermore, Newcastle have struggled for goals against the top five opposition throughout this season.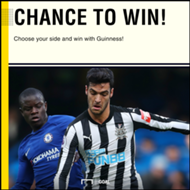 Goal fans "CHOOSE YOUR SIDE" with Guinness and you could walk away with Kshs. 2 million
Why Newcastle will win by Steve Blues
Newcastle unexpectedly reached the 40-points required for survival early, and this guaranteed safety back in mid-April, after beating Arsenal 2-1. Since then Rafa Benitez's men have taken their foot off the gas and have lost all four of their Premier League fixtures against Everton, West Brom, Watford and most recently Spurs. But this fixture is one that Benitez will be able to fire up his player's enthusiasm for. Not only does the manager have unfinished business with Chelsea after they let him go after winning the Europa League, but Newcastle could earn up to £8 million more for their season's efforts if they are to push further up the table with a win. 
Newcastle' match winner
Unusually, I am not going to name a player, but a manager instead. Benitez has proven again this season that he is one of the best managers around. He is both tactically astute and able to improve players with his coaching. Add to that the financial reward on offer for somebody with a limited transfer budget, and Benitez's careful cultivation of Newcastle fans admiration, so he has the ability to mastermind a victory at St James' Park. 
My score prediction: Newcastle 1 - 0 Chelsea
Newcastle have struggled for goals throughout the season so are unlikely to suddenly open up against a resolute Chelsea defence. But they are specialists at defending deep and nicking a goal. Chelsea, on the other hand, have a misfiring Morata and Giroud as forward options. If they can subdue Eden Hazard then Newcastle's hopes for a clean sheet will come to fruition to end Chelsea's lingering hopes of a top 4 finish.