Premier League
Guardiola was right - calamity Joe Hart's top class career is over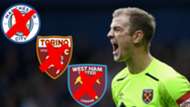 Joe Hart is threatening to embark on a nomadic career. After being cast aside so brutally by Manchester City manager Pep Guardiola last year, the England international took the rare and admittedly admirable step of moving abroad, joining Torino in an eye-catching loan that was meant to reignite a career that was on the verge of falling apart.
It did the exact opposite. During his time in Italy, Hart merely confirmed the suspicions of his doubters, turning in a series of error-strewn performances as Torino finished ninth in Serie A. Indeed, Hart was officially the second-worst goalkeeper across the top five European leagues; he made five mistakes leading to goals - only Josip Posavec, of relegated Palermo, made more.
Hart 11/8 for clean sheet vs. Swansea
Torino chose not to pursue a permanent deal for Hart, with the club's president, Urbano Cairo, even choosing to call out the error-prone stopper in the press . City, too, decided not to restore him to the matchday squad when his loan ended, despite a succession of mistakes from Hart's replacement, Claudio Bravo. Pep, in yet another snub, eventually chose to spend around £35 million on Benfica's Ederson, untested in the Premier League but undoubtedly gifted.
"Hart made a few mistakes, especially when coming out for the ball," Cairo said in May. "He is an important goalkeeper. We probably didn't expect so many mistakes from an England international… but he did some good things, too."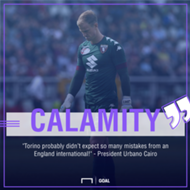 In 36 appearances, Hart conceded 62 goals in 2016-17, which makes it all the more baffling that West Ham chose to take the 30-year-old on a similar loan spell this season.
Somehow he remains England's No.1, Hart has only further ripped into his own reputation at London Stadium. Yes, he is playing behind a porous defence - West Ham have conceded 13 goals this season and only Crystal Palace, already on their second manager of the campaign, have shipped more - but he has made mistakes.
Hart is vulnerable to his left, and in the first three games of the season, prior to his first clean sheet in nearly a calendar year, his save percentage low to his left was a mere 61.1 per cent, compared to 83.3% high to his left.
Over the course of the campaign, Hart has faced a total of 26 shots on target. He has conceded 13, exactly half. For an elite-level goalkeeper, that is appalling. It's the worst in the league this season, far worse than either Manchester United's David de Gea (87.5%) or his City successor Ederson (81.8%).
A prime example of his weakness was shown in the opening game of the season against Man Utd, as West Ham lost 4-0. Late in the game Paul Pogba took aim from outside the area, and the ball evaded Hart, despite it being struck with relatively low power, and towards the centre of the goal.
This makes one wonder if Hart was scouted at all by West Ham. Did a club with an unbecoming thirst for headlines, led by David Sullivan and David Gold, the club's co-chairmen, choose to sign a player who had excelled in making mistakes over the past year, merely on the basis of reputation?
No performance of Hart's over the past year would've persuaded a scout on West Ham's payroll to recommend him to the club, unless the date was April 1.
Sources at the club have confirmed to Goal that there are already doubts about Hart from those high up at London Stadium. Adrian, the Spanish goalkeeper sidelined for Hart, kept six clean sheets last season in 16 appearances, while his rival kept five in 36 outings. Those in the boardroom believe that Adrian may, indeed, be the better player, and it would not be a surprise to see Slaven Bilic revert to the Spaniard as the season progresses.
Hart's errors will soon, surely, prove costly for himself, as well as the Hammers.
Were he to find himself on the bench it would be impossible for Gareth Southgate to continue selecting him as England's first-choice goalkeeper, ahead of the likes of Jack Butland at Stoke City or Jordan Pickford at Everton. Both have burgeoning, rather than shrinking, reputations, and offer youth in addition to Premier League experience.
Hart, at the age of 30, is on a downwards trajectory in his career. Not wanted at the Etihad, in Italy or, it seems, in London, he may soon run out of places to go.
Guardiola, so ruthless in swinging his axe, was right, as Hart's career at the very top of the game already appears to be nearing its end.