Premier League
Guardiola on Dortmund bomb & Syria crisis: 'I don't know where the world's headed'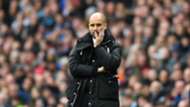 Pep Guardiola says he "doesn't know where we'll end up" following the attempted bombing of the Borussia Dortmund team bus on Tuesday.
German police are investigating who is behind a plot to blow up the Dortmund team as they headed to their Champions League game against Monaco earlier this week.
The incident comes as world leaders attempt to seek a resolution to the Syrian civial war, after president Bashar al-Assad was accused of using a chemical weapon against his own citizens, killing more than 80 people.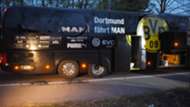 Guardiola was asked for his thoughts on events this week as he worked with Dortmund defender Marc Bartra, who had to have surgery to remove shrapnel from his hand and arm, during his time at Barcelona.
TRANSFER NEWS: Guardiola avoids Alexis question
"It's a bit scary how the world is," he told reporters. "It's going a bit crazy. What's happening in Syria... hopefully the president of the United States, the presidents of Russia and China, can intervene and find a solution, because if not we don't know where we'll end up. We have to keep living without fear, but these things can happen. 
"I hope Marc has a fantastic recovery. In terms of what happened, it was scary and and it was serious, but he lived to tell the tale. 

"But we're in a world where we don't know where we'll end up, that's the truth. I don't know where we're heading."