Grassroots development: F-17 Academy's Sky Yeo making a name for himself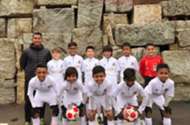 Grassroots development is always one of the most important aspect in producing quality footballers. All successful countries have excellent grassroots development systems with competent football academies to spot a precocious talent early and nurturing and guiding them to become a quality footballer. 
In the latest feature on Singapore's grassroots programmes, we take a look at F-17 Football Academy's latest jewel, Sky Yeo Sze Kai - a 10-year-old defender who is making a name for himself already in the grassroots circuits. 
West Ham eye Giroud and Walcott
Sky Yeo is the captain of F-17 Academy's team for the prestigious 2017 Gothia Cup China, an international youth tournament which was named 'World Youth Cup' by FIFA in 2007. 
For young Sky, this is an ideal opportunity to learn and develop himself and his coaches feel that Sky is a born leader apart from being a tough defender. He never shies away from 50-50 challenges and is a committed player. Sky just might be one of the players to look out for in the Gothia Cup.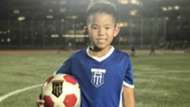 One of Sky's coaches at the academy was gushing when speaking about him, "We saw a unique player in Sky. He understands that football is a team sport and the leadership which he displays every training and match caught our eyes. He stands out by talking to his teammates,coaches and always never fail to greet others. Great character." 
Sky has been at F-17 academy since he was 8 years old and trains there 4 times a week. 
The youngster is a huge Liverpool fan and an admirer of their Brazilian midfielder Philippe Coutinho. In spite of that, Sky loves defending and wants to be the captain of Singapore national team one day. 
"I love to play as a defender as I like going against skilful players,win the ball and complete the pass," he explains. 
He also loves the training regime at F-17, underlining 'football' homework set by his coaches. "The coaches at F17 will give us homework such as juggling and passing challenges which I will do ever day at home. The coaches make trainings fun,they help us improve our skills and they love playing together with us."
F-17 Academy has produced several notable talents recently like Marc Ryan Tan, Mohammad Izwan Chik (both playing for Singapore U15s) and Muhammad Zamani Bin Muhammad Zamri (Singapore U16s) and Sky Yeo also has a bright future ahead of him, provided that he keeps working on his game.