African All Stars
Government stops funding of Ghana's friendlies, says deputy sports minister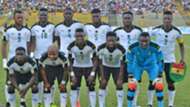 Ghana's deputy youth and sports minister Pius Hadzide says the government has cancelled funding the Black Stars' international friendly games.
He says the Ghana Football Association should be able to secure deals with other countries ahead of the 2018 Fifa World Cup enough to cater for travelling and bonuses. 
"As a country, we have decided not to play any friendly match that we will later incur lost as we would have to spend. We have communicated to the FA that if any country wants to play us, they will have to bear all the cost," Hadzide told Oyerepa FM.
"Ghana is a big football nation so any country that wants to play us will have to pay well to be able to cater for all the expenses. It shouldn't bring a loss to us. Friendly matches should go a long way to be a profit both on and off the field but not vice versa," he said.
He added: "This is the way to go and Ghanaians must support it. We want to save monies for other projects which the government intends to undertake in the future."
Goal understands that Ghana could play Ivory Coast and Iceland in the next international friendly date, with the latter using the game to fine tune ahead of their fixture against Nigeria at the World Cup which kicks off in June.