FIFA 19
Goal Ultimate 11 powered by FIFA 19 | Ter Stegen is the new "Number one" for the fans!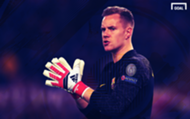 Goal's readers are impressed by the German goalkeeper Marc-André ter Stegen as he was voted as the "best GK in the world" beating out top opponents to cement his position in the Goal's Top eleven powered by FIFA 19 as we attempt to identify who you think are the best footballers around the world.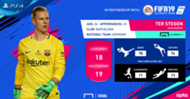 Stegen led the table with 48% of the votes (3,000+) beating out Thibaut Courtois and David de Gea who were battling it out with each other at 1,026 and 1,021 votes respectively. They were followed by Atletico Madrid's shot stopper Jan Oblak who collected 750 votes while Manuel Neuer came came in fifth with 539 votes.
Stay tuned to this space as we ask for your help to identify the best righ-back tomorrow.