Super League
Goal 2017 MSL Team Preview: Sarawak depend on new direction, local boys for safety in 2017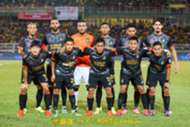 ---
BY        ZULHILMI ZAINAL       Follow on Twitter
---
2016 was a forgettable season for the Crocodiles. Despite the appointment of the AFF Cup-winning former Malaysia head coach Datuk Rajagobal Krishnasamy to helm the side and the signing of several young Malaysian players at the start of the season, their fortunes did not improve.
Rajagobal was then replaced by Sarawak-native David Usop halfway through the season, and the East Malaysian side only escaped relegation by the skin of their teeth.
And even then they had to wait for awhile to begin their 2017 preparations, as the decision of Sarawak FA (FAS) president Datuk Sudarsono Osman to not seek another term when his tenure ended in September, prompted a long search for his replacement by the association. After several proposed candidates declined the post, they finally found their new president in businessman, Datuk Posa Majais.
David was then entrusted with the task of leading Sarawak for a second season, and the Crocodiles' pre-season preparations were soon underway.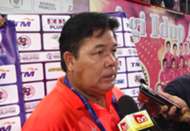 David Usop. Photo from TV Selangor Youtube
NOTABLE TRANSFERS
David showcased his side's commitment to developing and using local players, by signing and retaining an almost all-Sarawakian lineup, save for a few Malaysian players and their four foreign signings.
They parted ways with all four of their foreign players from last season, and signed new ones including Philippines international Mark Hartmann and former Sime Darby FC forward Mateo Roskam. Interestingly, they also signed Brazilian defender Demerson Bruno Costa, who last played for Brazilian club Chapecoense, which met an airplane crash on their way to a continental competition final match November last year.
Among Malaysian players who left were Rajagobal's signings Gurusamy Kandasamy and Syahrul Azwari Ibrahim.
They however signed two goalkeepers;  local non-league custodian Zul Mohi and former Sarawak goalkeeper Aidil Mohamad, who was persuaded to came out from retirement at the professional level.
Meanwhile they retained the services of Terengganu-born goalkeeper Shahril Saa'ri, captain Ronny Harun, veteran defender Ramesh Lai, young midfielder Shamie Iszuan, as well as Hairol Mokhtar and Rodney Celvin Akwensivie.
In: Aidil Mohammad (Mukah FA), Zul Mohi (Kuching FA), Mateo Roskam (Sime Darby), Lee Jong-ho (Svay Rieng FC), Demerson (Chapecoense), Mark Hartmann (Geylang International).
Out: Júnior Aparecido (released), Ndumba Makeche (released), Teah Dennis Jr. (released), Gilmar Jose da Silva Filho (released), Syahrul Azwari Ibrahim (JDT), Gurusamy Kandasamy (PKNS), J. Parthiban (Terengganu), Thanaraj Kumarasamy (released), Iqbal Suhaimi (released).
PRE-SEASON ACTION
The Crocodiles played two pre-season friendlies; both against Bornean sides. They lost 1-0 to Premier League side Sabah, then took on non-league side Kuching FA.
GOAL'S PREDICTION
Under the fresh direction of their new president who has shown efforts to modernise the association (selling match hospitality packages for example), David may just expect the board's trust, and Sarawak may earn safety this season from the lower half position in the league. 
His men have shown that they may have what it takes to turn in a gritty performance this season, battling to a 1-1 away draw against T-Team FC in their first league match, and then almost surprising Kedah at the Darul Aman in the next, before finally losing 3-2 to the 2016 Malaysia Cup champions.
We've published the previews for eight other 2017 MSL teams! Read them here: JDT, Kedah, Selangor, Melaka United, Pulau Pinang, PKNS FC, Pahang, T-Team. More will be published this week!