Super League
Goal 2017 MSL Team Preview: Kedah have what it takes to challenge JDT's domination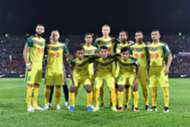 ---
BY        ZULHILMI ZAINAL       Follow on Twitter
---
If someone not familiar with Malaysian football were to look at Kedah's achievements in 2016, it might not even cross their mind that the Red Eagles had just been promoted back to the Super League at the start of the 2016 season.
They finished third in the league, reached the semi-finals of the FA Cup, before capturing the Malaysia Cup at the end of the season.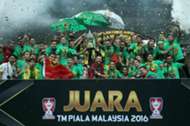 Kedah lifting the 2016 Malaysia Cup. Photo by Simon Yap
So, it was heartening to know that the Kedah FA has managed to retain almost all of their key players, as well as head coach Tan Cheng Hoe, and can be expected to rely on team stability and continuity that brought them success last season.
They managed to fend off other teams' interests in stars Rizal Ghazali and Syazwan Zainon, while retaining the services of Kosovar playmaker Liridon Krasniqi and Brazilian forward Sandro da Silva Mendonca.
Many have talked of their chances as one of the league challengers and one of the teams to beat JDT's domination this season, and they proved their worth in splendid fashion, in round one of the Super League last weekend.
In the Sultan Haji Ahmad Shah Cup match which also doubled up as the league opener, they held the Southern Tigers to a 1-1 draw in the 90 minutes, before taking the trophy by winning the subsequent penalty shooutout, all in front of the former AFC Cup champions' home crowd at Larkin.
Having pulled off such a feat against a team who went undefeated at home in all competitions in 2016, surely great things are now expected of the former double-treble champions.
NOTABLE TRANSFERS (as at 17/1/2017)
Despite having retained many of their local stars, Kedah offloaded all of their foreign players except for Krasniqi; former New Zealand international Shane Smeltz, Felda United loanee Thiago Augusto Fernandes and Korean centre back Bang Seung-hwan. As their replacements; Kedah signed Home United forward Ken Ilsø Larsen as well as well as Australian defender Zac Anderson. PDRM captain and Singapore international Safuwan Baharudin was reportedly on their radar for a while, but a move did not materialise.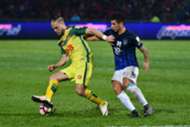 Ken Ilso Larsen (left) playing against JDT last Friday. Photo by Mohd Fauzi Saim/CSN
Notable local signings include JDT II's Akram Mahinan and Fitri Omar from northern rivals Pulau Pinang. Meanwhile Azmeer Yusof, Sabre Abu, Shafizan Hashim, Amar Rohidan and Shazuan Ashraf Mathews were among those who departed Alor Star.
In: Ken Ilsø (Home United), Zac Anderson (Emirates Club), Akram Mahinan (JDT II), Mohd Fitri Omar (Pulau Pinang), Ifwat Akmal Che Kassim (Kedah youth)
Out: Azmeer Yusof (Kuala Lumpur), Sabre Abu (PKNS), Bang Seung-hwan (release), Shafizan Hashim (release), Amar Rohidan (release), Thiago Augusto Fernandes (loan end), Shane Smeltz (Wellington Phoenix).
PRE-SEASON ACTION
Kedah played Premier League side PDRM in a friendly at home, defeating the Cops 4-1 before they travelled to Klang Valley for more matches. They drew 0-0 against PKNS FC, 1-1 against Terengganu, before finally winning 2-0 against third tier side Felcra FC. And just a few days after they defeated JDT, they took on Chinese Super League side Hebei China Fortune FC in a closed-door friendly at the Shah Alam Stadium, a match they lost 4-2.
GOAL'S PREDICTION
The Red Eagles have shown that they have what it takes to be one of the challengers for the league title this season, if not the champions. However this can only be achieved if head coach Tan Cheng Hoe is allowed to do his job without undue pressure. Last season, during a very brief winless spell, fans hastily called for his head, which the Kedah FA wisely ignored. Cheng Hoe soon turned things around, and the rest is history.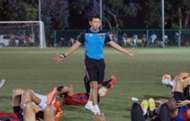 Tan Cheng Hoe. Photo by Kedah FA