Ghana
Ghana's 2018 Awcon LOC unhappy with Fifa/Caf Liaison Team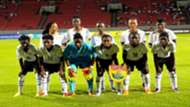 Ghana's Local Organizing Committee chairperson for hosting of the 2018 Africa Women's Cup of Nations, Freda Prempeh is displeased by interference of the Fifa/Caf Liaison Team for Ghana football.
Four months to the tournament, work on various facilities and infrastructure appear behind schedule, fuelling fears that the West Africans may not be able to organize the tournament.
And after a Caf inspection team expressed unhappiness over the state of affairs, particularly concerning the Accra Sports Stadium, Ghana wrote to the continental football governing body to consider other facilities, a move which has apparently incurred the wrath of the LOC. 
"I have found out that the Liaison Team have written to Caf over our inability to host the Africa Cup," Prempeh said, as reported by Footballmadeinghana. 
"But we are still working towards delivering a good tournament, and work is still ongoing at the various sites.
"It was, therefore, shocking to learn that such a letter was sent to Caf without recourse to the LOC or the Ministry [of Sports].
"The Liaison Team wrote this letter to Caf without putting us or the Ministry in copy and I don't think it is the best."
The Liaison Team is an interim two-man body set up by Fifa/Caf to oversee the management of football in Ghana following the recent football association corruption scandal. 
The Cup of Nations is set to run between November 17 and December 1.