Ghana
Ghana worst affected of 210 countries on latest Fifa Ranking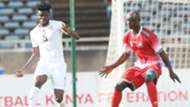 Ghana are the biggest losers on the latest edition of the World Fifa Ranking announced on Thursday.
The September release sees the Black Stars move from 45th to the 51st spot, with an accompanying reduction in total accumulated points from 1424 to 1407.
The change, all due to a 1-0 defeat to Kenya in the 2019 Africa Cup of Nations qualifiers on September 8, has made the Black Stars, together with Burkina Faso, the side with the biggest drop by points (17 marks) on the table of 210 countries. Together with Slovenia, Kwesi Appiah's outfit are also the biggest losers by ranks (six places down).
Ghana's loss was Kenya's gain as the Harambee Stars interestingly moved up by 22 points, the biggest by any side on the ranking.
The turn of events is hugely disappointing considering the Black Stars made successive progress on the last four editions of the world ladder.
On continental level, Ghana have equally fallen back, having moved from the fourth spot to the seventh position, now only ahead of Burkina Faso (56th in the world), Mali (63) and Egypt (64) in Africa's top 10.
Tunisia (23), Senegal (25), Congo DR (40), Morocco (45), Nigeria (48) and Cameroon (50) are Africa's top seven.
Aside from Belgium moving up to tie France at the top of the table, there was no positional change among the top nine on the world table. Brazil occupy the third spot, ahead of Croatia, Uruguay, England, Portugal, Switzerland and Spain in that order.
Ghana's highest ever performance since the ranking's introduction in August 1993 remains a 14 place in February 2008, while their worst placement was an 89 position reached in June 2004.
The Black Stars return to action next month when they take on Sierra Leone in a 2019 Africa Cup of Nations qualifying double-header.