Transfers
George Lebese is committed to Kaizer Chiefs, says Steve Komphela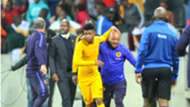 Speculation continues to grow regarding the future of Kaizer Chiefs ' winger George Lebese .
Recent reports have suggested that Mamelodi Sundowns are keen on roping in Lebese as a direct replacement for Keagan Dolly, who left the club in January.
According to a source close to Independent Media , the Tshwane giants have been contemplating to sweeten the deal by offering Mzikayise Mashaba to Amakhosi.
"The two clubs are yet to agree on the fee, but they are still talking. As you know, Lebese is still under contract with Chiefs. As much as he is not happy at Chiefs, he has to honour that contract," the source told IOL .
"The two are clubs are considering a swap deal that could see Mzi Mashaba heading to Chiefs. They have been chasing the player for a while now and this is a good opportunity to finally land Mzi," the source stated.
"Mzi Mashaba is currently out of favour at Sundowns. He still faces a hearing after his behaviour against Baroka where he disrespected his teammates and the technical team. I don't see him playing at Sundowns this upcoming season," the source concluded.
However, Amakhosi coach Steve Komphela has dispelled rumours suggesting that Lebese was on his way out at Naturena.
''George is still with us. George is still with us'" Komphela was quoted as saying by Times Media Group .
''Not unless there is something you know that I do not know, but George is with us' he will be at training (on Tuesday). He is committed to playing for the team. There are actually more conversations that we have with George that the two of us discuss," Komphela explained.
''We say 'but were does the speculation come from?' But understanding the nature of the business and the nature of perspectives and opinions' you cannot stop people from saying things, but where does this one come from? Sometimes it pains me as a person because as a person I love football players' and I love people I work with," he added.
''Before you lead them' you have got to love them. I love all players I work with. Now, sometimes when certain things come' I do not immediately respond to things as they come in. I go to the person affected in the comment so that clarity is there and I understand that this guy this is where he puts me, but sometimes it so painful when you are put in a compromising position that is completely out of your character.
''I am a loving person and I have got no hatred. I don't even know what hatred is," he concluded.