River Plate
Forget Pochettino, Simeone and Sampaoli: River wizard Gallardo's is Argentina's finest tactician
South American Football Writer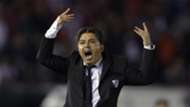 If pressed to name the most successful Argentine coach currently active, Diego Simeone or Mauricio Pochettino would top many football fans' lists. Both have achieved impressive success at relative outsiders, re-establishing Atletico Madrid and Tottenham, respectively, as challengers at the top of the table.
Jorge Sampaoli, too, might make the argument, despite his recent abortive attempt at taking Argentina to World Cup glory; Marcelo Bielsa too, for pure experience and enthusiasm, deserves to be in the discussion.
But, in reality, one man wins out hands down. River Plate coach Marcelo Gallardo has almost single-handedly ushered in a golden age for the Argentine club and what's more, has done so on a fraction of the budget enjoyed by some of his illustrious contemporaries.
The Copa Libertadores final against Boca Juniors, which will conclude on Saturday with the second leg in River's Monumental, marks Gallardo's 11th final in the Millo hotseat, an astonishing record considering that he took over just four-and-a-half years ago.
Even more impressively, seven of those have ended in victory for his club, including the 2014 Copa Sudamericana title, Libertadores success the following year and consecutive Copa Argentina triumphs in the past two years.
Indeed, River are also in the hunt for another final appearance if they can prevail over Gimnasia in the Copa Argentina semi, to be played on Wednesday; a win there and against Boca and a trip to the final stages of the Club World Cup in December would push him up to no less than 13 finals before 2018 is out.
No less notable is his knack of getting the best out of young – and not so young – talents, maintaining River's status as an enviable breeding for players destined for top European clubs.
Matias Kranevitter; Ramiro Funes Mori; Lucas Alario; Sebastian Driussi; Gabriel Mercado; Emanuel Mammana; Eder Alvarez Balanta; Marcelo Saracchi; German Pezzella: all have moved on for multi-million dollar transfer fees, easing the Argentines' chronic debt situation which threatened to engulf the club just a few short years ago.
Now Gonzalo Martinez and Exequiel Palacios are set to follow that same path, while Colombian playmaker Juan Fernando Quintero, considered an overweight, lazy liability on his arrival at the Monumental at the start of 2018, was transformed into the Cafeteros' star of the World Cup and a scintillating match-winner.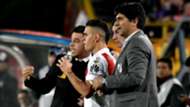 One would think that such constant turnover of personnel would impact negatively on River's on-pitch showings, a fear belied by Gallardo's record of three Libertadores semis and two finals in the four editions he has disputed.
How, then, does 'El Muneco' – in his day a wonderfully stylish No. 10 who starred for Paris Saint-Germain and Monaco among others but was unlucky enough to see his international career coincide with that of genius pair Ariel Ortega and Juan Riquelme, reducing his cap tally to a still-respectable 46 – continue to thrive in such hostile environs?
Essentially, Gallardo is an uncanny reader of the game. While most of his adversaries on the bench in South American football are rigid in their tactics or simply reactive, the River boss gauges each opponent and tweaks his strategy in turn.
River's habitual 4-3-3 formation under Gallardo is flexible enough to push out on the front foot and look to dominate possession or soak up opposition pressure and hit hard on the counter, with the likes of Martinez and Rafael Borre particularly adept at making space out of nothing and punishing defenders.
In the first leg against Boca, the coach sprang another surprise. Wary of the Xeneize's powerful midfield, Gallardo added a third central defender to his line-up and simply bypassed that hotly disputed zone.
Having dispatched the Xeneize with ease in the Bombonera just a matter of weeks earlier with a wholly different set-up he showed no reluctance to change his plans, chalking up yet another tactical victory over the rather less studious Guillermo Barros Schelotto, even if the two teams eventually cancelled each other out in a 2-2 draw that leaves the tie on a knife-edge.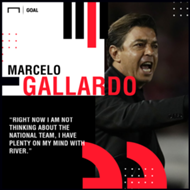 It is no surprise, then, to see Argentina clamouring for his services. But Gallardo, perhaps just as unsurprisingly, has no inclination to jump into that particular vipers' nest for the time being: pointing to the contract he has at the Monumental until December 2021, he is committed to extending a tenure that at nearly five years is almost unheard of in the pressure cooker of South American football.
"Right now I am not thinking about the national team, I have plenty on my mind with River," he said when asked about the chance of succeeding Jorge Sampaoli back in October.
"After that, I think any renewal can only be a good thing, but there must be a solid structure and base to create that renewal."
Monaco, too, made tentative enquiries over their former player when sacking Leonardo Jardim in October, before ultimately opting for Thierry Henry. Each suitor has so far been rebuffed by either River or Gallardo himself, neither wishing to break this incredible run of success.
Another Libertadores win, however, would raise the coach's stock even higher, and force Europe's elite to pay close attention to the 42-year-old whizzkid.
Gallardo has already done his part in sending scores of stars across the Atlantic; sooner or later the time will come to follow his former charges and prove that he is more than the match of Pochettino and Simeone in winning games.
The Copa Libertadores final second leg will be streamed LIVE right here on Goal [UK ONLY] from 8:00pm GMT.