Chelsea
Forget about Costa: Six games and Morata is already killing it!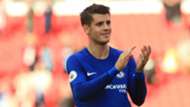 Replacing Diego Costa shouldn't have been so easy but Alvaro Morata has already consigned Chelsea's former hero to history. 
Just a day after it had been confirmed that the Blues had agreed a fee with Atletico Madrid for Costa, Morata was involved in his sixth, seventh and eighth goals for Chelsea since joining from Real Madrid during the summer.
Chelsea 9/2 to win Premier League
The 24-year-old was sensational against Stoke City on Saturday, taking a perfect touch in the box from a long pass from Cesar Azpilicueta before lofting the ball over Jack Butland to make it 1-0 to the visitors.
Manager Antonio Conte said Morata "feels the goal in every moment" and it was his positioning that gave him the edge over a makeshift Stoke City defence for the opener but his three goals displayed different skill-sets, with his second showcasing his blistering pace and under-rated dribbling ability.
His predatory instincts were on display when completed his hat-trick by finishing off a beautiful team move in which Azpilicueta set Morata up for the fourth time this season by chesting the ball into his fellow Spaniard's path, thus leaving the No.9 with a tap-in.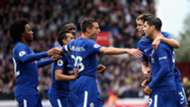 It meant that Morata equalled Costa's club-record of being involved in eight goals in his first six Premier League appearances for Chelsea, as the former Juventus striker has already struck six times since arriving in England, as well as notching two assists.
Of course, matching Costa's impact at Chelsea will not be easy. The 28-year-old won more points than any other player with his goals during last season's title triumph. He was the Blues' powerhouse up front, turning defeats and draws into victories through sheer force of nature.
However, Morata is already proving just as influential - albeit in a different way - with the added bonus that he is four years younger than Costa. Indeed, as Conte pointed out, the hungry Morata is only going to get better.
"Morata is already a really good striker but I think he can improve a lot," the Italian stated. "Despite being a young player, he has played with Real Madrid and Juventus, and in his career he has won a lot.
"We are trying to work very hard with him, to adapt himself in our style of football, our idea. But, for me, the striker is very important and he is a good guy who wants to improve a lot. He wants to become one of the best."
Morata wasn't the only Spaniard to shine at Stoke, though. Pedro scored Chelsea's second and Azpilicueta was outstanding during a win that proved the Blues showed that they have the quality all over the pitch to fight off the Manchester clubs and retain their Premier League crown.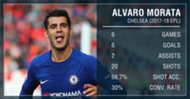 Of course, many initially doubted whether Morata was good enough to lead the line for Antonio Conte's side. As he himself said of the critics after the shootout loss to Arsenal in the season-opening Community Shield clash with Arsenal, "I've only had two friendlies, 15 minutes officially and a missed penalty, and they're already killing me."
However, Chelsea legend Frank Lampard was one of the few impressed by what he saw of Morata during those early days.
"Diego Costa is not easy to replace and I don't think you can replace him with someone exactly in his mould," the former England international told Goal . "But, in Morata, I think they have a young player with great movement."
Indeed, despite the sale of Costa, Chelsea are still clearly in possession of a No.9 capable of firing them to another title triumph. Just six games into the new season, and Morata is already killing it.