KPL
FKF starts negotiations to reinstate SuperSport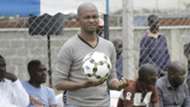 Football Kenya Federation has moved to engage SuperSport with the aim of having the South African company rescind its decision to terminate contract with the Kenyan Premier League Limited.
The move comes after the FKF hierarchy met both the KPL leadership in a Joint Executive Committee (JEC) meeting held on Monday and a section of KPL club chairmen earlier today (Tuesday).
"From the two meetings we have resolved that it is in our interest and that of Kenyan football to have SuperSport back on air. As such the federation has moved with speed to engage SuperSport in a bid to remedy the situation and have the company rescind its decision to terminate its contract with the KPL.
"We have further made it clear to SuperSport that despite being the institution duly recognized to oversee all footballing activities in the country, we have not only delegated the mandate to commercially 0rganise the top tier League to the KPL limited until the year 2020 but are also willing to provide any warrants that might be required to demonstrate the same," FKF President Nick Mwendwa told the federation's web-portal.
SuperSport have so far switched all Kenyan related shows on their channels; the latest being MchakaMchaka which went off, days after announcing the contract termination.