eSports
FIFA 18 ratings: Kane, Alli & the top 10 English players in the new game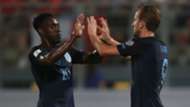 FIFA 18 is set to be released at the end of September and EA Sports have teased fans with the release of the player ratings.
The game's developer unveiled the top 100 players in the new edition and cover star Cristiano Ronaldo unsurprisingly leads the way.
A host of nationalities are represented in the best 100 and there are many from the Premier League, but, interestingly, just two English players make it.
Ahead of the global release on Sptember 29, Goal takes a look at the top 10 English players in FIFA 18.
---
10. RAHEEM STERLING | MAN CITY | 82
---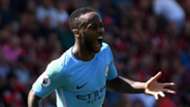 Manchester City winger Raheem Sterling is among the best English players in FIFA 18, but the 22-year-old is still not quite the big-hitter many have expected him to become.
With a four-star skill rating, Sterling's pace (93) and dribbling (85) ability are undoubtedly his main assets, but they just about help the attacker to an overall rating over 82, putting him in a similar bracket to the likes of Liverpool's Mohamed Salah (83) and PSG forward Lucas (82).
Naturally, given his relative youth, there is ample scope for that rating to improve and it may do so if he can keep up his performance level this season.
---
9. JORDAN HENDERSON | LIVERPOOL | 82
---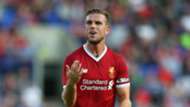 Liverpool captain Jordan Henderson has an overall rating of 82 in FIFA 18 and he is the best central defensive midfielder England have, according to the game.
Henderson's main traits revolve around his leadership skills and his high work-rate, while his strongest asset is his passing ability, with 85 for short passing and 83 for long passing. 
However, he is a long way off the best central defensive midfielders in the game - Arturo Vidal and N'Golo Kante - who are rated five points better than him at 87. 
---
8. DANIEL STURRIDGE | LIVERPOOL | 82
---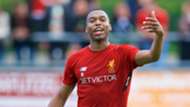 Despite his persistent injury woes, Daniel Sturridge is considered to be the second best English striker in FIFA 18 with an overall rating of 82.
The Liverpool striker has lost a bit of his pace in the game, which is not surprising given his long list of injuries, but his dribbling ability is respectable and, despite seeing a significant decline in his goal tally in the last three seasons, his finishing is also fairly decent.
Sturridge's rating puts him on the same level as Olivier Giroud, Mario Balotelli and Javier 'Chicharito' Hernandez.
---
7. DANNY ROSE | TOTTENHAM | 82
---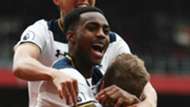 Tottenham defender Danny Rose is one best English left-backs in FIFA 18 with an overall rating of 82 and the 27-year-old has a nicely balanced set of attributes.
Rose has been out injured for a lengthy period of time, but his past displays have clearly marked him out as a full-back that is just as comfortable going forward as he is defending.
While his overall passing ability is not very impressive, Rose's crossing is rated as 81, which can combine well with his reasonable pace and dribbling.
---
6. LEIGHTON BAINES | EVERTON | 82
---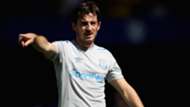 Leighton Baines has the same overall rating (82) as fellow left-back Danny Rose, but the Everton stalwart's strengths are more clearly apparent than that of his Tottenham counterpart.
The 32-year-old is an excellent crosser of the ball, with a rating of 86, and he is deemed to be an expert at hitting 'finesse style' free kicks.
Given his age, Baines' physical attributes are on the decline, but he makes up for it in technical ability.
---
5. KYLE WALKER | MAN CITY | 83
---
Manchester City made Kyle Walker one of the most expensive full-backs in the world when they signed him from Tottenham for £50 million, and his FIFA 18 rating of 83 puts him up with the best right-backs in the game. Only Paris Saint-Germain's Dani Alves and Real Madrid's Dani Carvajal have a higher rating than Walker.
The 27-year-old's main strength is undoubtedly his pace, which is a frightening 90 and matched by his stamina. However, Walker's skill rating and weaker foot are both deemed to be two stars, so it is probably best to avoid trying to dribble with him.
---
4. ADAM LALLANA | LIVERPOOL | 83
---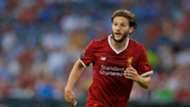 Liverpool's Adam Lallana is considered to be the best English central midfielder in FIFA 18 with a rating of 83, but he is nowhere near the best in the game, the 90-rated Toni Kroos.
Lallana is seen as a playmaking midfielder and that is reflected in his attributes, which see his passing and dribbling abilities rated highest. The former Southampton man falls down somewhat when it comes to the defensive side of the game, with a rating of 65 in that area.
Nevertheless, he boasts a five-star weaker foot and a four-star skill rating, which could be put to good use in the game.
---
3. DELE ALLI - TOTTENHAM
---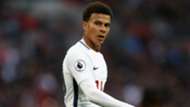 Dele Alli jokingly expressed disappointment at his FIFA 18 rating, which sees the Tottenham central attacking midfielder weigh in at 84, suggesting that he won't use himself in the game until it improves.
He may be England's best 'Number 10', but Alli trails well behind fellow Premier League stars Kevin De Bruyne (89), Mesut Ozil (88) and David Silva (88), as well as his Spurs team-mate Christian Eriksen (87).
Even though he made the FIFA 18 top 100, one can sympathise with Alli's sense of deflation considering that he scored an amazing 18 goals from midfield last season, laying on seven more for his team-mates. But at just 21, he is sure to improve if he can maintain consistency.
---
2. GARY CAHILL - CHELSEA
---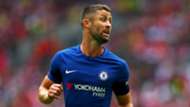 Chelsea captain Gary Cahill is England's best defender with an overall rating of 84, but he missed out on a place in FIFA 18's top 100 players.
Part of the reason for that is that, when it comes to defenders, Cahill is comfortably in the second tier, with Champions League regulars such as Sergio Ramos (90), Giorgio Chiellini (89) and Thiago Silva (88) setting the standard for centre backs.
The 31-year-old's defending attributes amount to 84 and his heading ability is his chief asset with 86 accuracy.
---
1. HARRY KANE - TOTTENHAM
---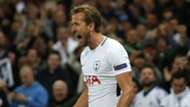 Tottenham star Harry Kane is the best England player in FIFA 18 with an overall rating of 86 and the Premier League Golden Boot winner is one of just two Englishmen in the top 100.
Kane scored 35 goals in all competitions for Spurs last season, including 29 league goals, so it is no surprise to see him given a 90 for finishing.
However, despite proving himself as the best striker in the Premier League in the last two seasons, Kane is still rated lower than Sergio Aguero (89) and Zlatan Ibrahimovic (88).
While he is deemed to be on the same level as Karim Benzema, Diego Costa and Romelu Lukaku, the 24-year-old is some way off the likes of Robert Lewandowski (91) and Luis Suarez (92).