Gaming
FIFA 18 new features: How crossing, strength and passing have changed to catch up with pace
For many fans, the launch of the FIFA 18 is a highlight of their footballing calendar.
On Monday, Goal got its hands on the new game ahead of release and sat down for an exclusive interview with FIFA 18's gameplay producer, Sam Rivera to find out why this year, fans may find themselves playing with teams and players they've never tried before.
With so much going on in the transfer market this season, do you expect players to still prefer to play as the likes of Barcelona and Real Madrid?
"Real Madrid are doing really well, so I expect a lot of people will still use Real Madrid, but also, with all those transfers, with Manchester United and Manchester City, we see people going to those teams, which is good for us as we want to see that diversity.
"Also, I want to say that with all the changes that we have, players have different qualities and those qualities are more useful now. Before people would focus on pace, maybe strength.
"But now, qualities like passing really matter, crossing really matters. So, you may not only want the fastest player, you may want those players who can hide the ball with some nice dribbling, or very nice through balls, so that's going to bring a lot of players into the game who were maybe not there."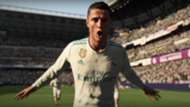 A lot of players found crossing hard in FIFA 17, how have you changed that in FIFA 18?
"We have a brand-new crossing system. First of all, we changed the mechanics, so now a regular cross by default is going to have a more driven and curved trajectory. If you want a ground cross you have to hold the right bumper, if you want a very high cross, because you know you have a tall attacker, for example, you hold the left bumper and cross.
"There's a lot of attributes involved too, so the better the crossing attribute of the player, the more chances for the perfect cross. Also, user skill, so it's not about taking a random cross. If I'm not facing the goal, I need to be at the right speed, facing the right angle to have that beautiful, nice cross that may end up in more scoring opportunities.
"With all those things crossing just feels different, it's a possibility you don't have to cut back inside and dribble into the box. You can actually cross the ball which creates new types of play which is what we want with FIFA."
Away from the marquee teams, are there any smaller teams you'd suggest players play with?
"I'm from Mexico and when I play with Club America, which is my favourite team, I can really feel the difference between the different players and they adapt to the way I play so I can do a very good job with them against probably better teams and I feel it will be the same for other people and other teams.
"I can't tell you exactly who to use, because that depends... it's about personality."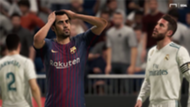 With so many players rated so highly in FIFA this year, how do you make them feel different?
"We made sure that every single point in the attributes matters, so you can see a difference. So, if you have [Lionel] Messi who is 91 pace and later on you have one with 93, those two points make a difference. It used to be maybe for pace, but now you will feel it for all the other attributes, passing, shooting, dribbling.
"So, if you manage to get a team with Icons [players from the past available in FIFA Ultimate Team] with very high stats you will feel right away the factor of them in gameplay. In dribbling, for example, if you have [Andres] Iniesta, who is very good at dribbling, maybe not super close, he can still hide the ball and you can feel it.
"But if you have someone like Messi, he can also dribble but he's explosive, you feel it and then you pass the ball to someone like [Gerard] Pique he's probably going to have to pass as he's not going to be able to hide the ball as tightly. You feel them right away with every point on the attributes so we made sure from 80 to 99 you see that distribution."
You mentioned the difference Icons make, which are you most looking forward to?
"Pele and Maradona of course. Personally, Ronaldinho, I think a lot of people love his skills, they're crazy. The goalkeeper as well [Lev Yashin], because in goal you want a player with high skills.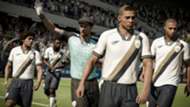 "So, there are more that we're announcing later, it's hard to know as there's decisions with the licensing team doing it, so now it's Maradona, Pele, Ronaldo Nazario - he's very, very good. I can tell you, when I was testing FIFA I created a team with only Icons in every position.
"I won't tell you their names, as maybe they might not make it, you never know, and the gameplay feels so different because they're so fast, so agile, they're such good passers it changes the experience and I think people are going to be very excited about these Icons."