Premier League
FIFA 17 Ultimate Team: Updated Lacazette, Salah, Totti & Kuyt cards lead first batch of FUTTIES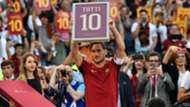 Friday marked FIFA 17's release of the first batch of 'FUTTIES', with Francesco Totti and Dirk Kuyt's 'End Of An Era' cards boasting massive stats boots, while Alexandre Lacazette is now available as an Arsenal player and Mohamed Salah for Liverpool.
The FUTTIES series runs six weeks, until August 18th, with EA Sports making available a range of different categories of cards and packs available to their FUT fans.
Two icons who hung up their boots at the end of the 2016-17 season, Kuyt and Totti, are the first two icons of six who have received huge boosts as a fitting send-off by the video game franchise. 
The first lot of EOAE cards can be packed until July 14.
End of an Era SBCs kick off with @Totti and @Kuyt Grazie, Capitano! Available until July 14. #FUTTIES pic.twitter.com/LgJJWuygXf

— EA SPORTS FIFA (@EASPORTSFIFA) July 7, 2017
Players can also currently vote for their favourite centre-back from a choice of Eric Bailly, Chris Smalling and Samuel Umtiti by completing a squad building challenge of their choice.
The winner of the vote will receive a special boosted version of their card which will also be made available to FUT players through an additional squad building challenge.
Who is you favourite #FUT CB this year? @ericbailly24, @ChrisSmalling or @UmtitiSam? Only way to vote = complete their SBC! #FUTTIES pic.twitter.com/B0Fvmfw2wA

— EA SPORTS FIFA (@EASPORTSFIFA) July 7, 2017
Finally, players whose chemistry largely drevolved around participation in the Premier League will be happy to find out that Alexandre Lacazette, Bernardo Silva, and Mohamed Salah are now available as Arsenal, Manchester City and Liverpool player's respectively. 
Corentin Colisso's Bayern Munich card is also available in packs.
.@LacazetteAlex@Arsenal;@22mosalah @LFC;@CorentinTolisso@FCBayern & @BernardoCSilva@ManCity. Available in SBCs & packs. pic.twitter.com/9BrDzjvsgl

— EA SPORTS FIFA (@EASPORTSFIFA) July 7, 2017
EA Sports has compiled an FAQ for those who wish to know more about the FUTTIES series:
Q: How do I vote for FUTTIE Awards?
A: Complete the Nominee SBC for the player you want to vote for. 
Q: Will the items that I get by completing a Nominee SBC have boosted stats?
A: No, the Nominee reward items will have the same stats but will be a special unique pink item.
Q: Do FUTTIE Nominee items get automatically updated if the player wins?
A: No, the winner's item with boosted stats will be available only through a separate FUTTIES Winner SBC.
Q: Will transferred players only be available through Marquee Transfers SBCs?
A: No, they will also be available in packs as per usual.
Q: Are players featured in Marquee Transfer SBCs awarded as special items?
A: No, they are regular player items.