Fast Five FC are #PremierCoolTurf Wars kings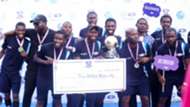 The maiden edition of the 5-A-side football tournament organized by Premier Cool, tagged 'Turf Wars', came to a thrilling conclusion on Saturday, September 1, 2018 at the Children International School, Lekki. The grand finale of the competition featured some entertaining football as Fast Five FC emerged champions in a fiercely contested final.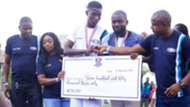 It was quite a relaxed atmosphere before the matches began, as guests were treated to some special comforts which included: pedicures, haircuts, and other games to get everyone relaxed. Soon it was time for the business of the day as the 8 qualifying teams: Fast Five FC, PhotostudioNG FC, Hunters FC, Juniorates FC, Bomb Squad FC, Odd Twelve FC, Old Ladies FC, and Ballers FC, took to the pitch to battle it out. At the end of the semi-finals, Fast Five FC and PhotostudioNG FC progressed to the final, while Hunters FC and Juniorates FC faced off for third place. The final match was nothing short of thrilling, as fans were kept at the edge of their seats for the duration of the match.
Fast Five FC, who appeared to be the fan favourites, were down by 4 goals at the resumption of the second half, but they dug deep and took the game to extra-time after 4 quick-fire goals. PhotostudioNG FC found their way back in front again, but Fast Five FC got a last-gasp equalizer and took the game to penalties. It was a fierce battle, but Fast Five FC emerged champions as they won 3-2 on penalties, completing an incredible comeback.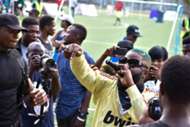 Important personalities at the event include: Managing Director, PZ Cussons, Alex Goma; Head of Marketing, PZ Cussons, Charles Nnochiri; Group Brand Development and Activation Manager, Vivian Akindele; and other representatives from the Lagos State Football Association (LSFA).
Audiences were treated to a stellar event, featuring top class five-a-side football and top musical performances from popular Nigerian artistes, Skales and Immaculate.
The winning team took home the top cash prize of N3million, while the second and third-placed teams walked away with cash prizes of N1.5million and N750, 000 respectively.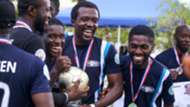 The Premier Cool Turf Wars is endorsed by the Lagos State Football Association (LSFA); the Nigerian Football Federation (NFF); and also proudly supported by SociaLiga.