Gaming
Fantasy Football: Son shines in our Premier League Team of the Week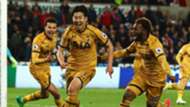 Premier League stars took centre stage this past weekend with five of the 10 most owned players in our game also finishing in our team of the week. Just keep on scrolling if you would like to see who else mad the grade in match week 32.
Download Goal Fantasy Football on iOS or Android now and win great prizes every week!​
GK: Fraser Forster - Southampton - 1 Game, 6 Saves, 1 Clean Sheet = 10 Points
DF: Kieran Trippier - Tottenham - 1 Game, 1 Assist, 1 Clean Sheet = 10 Points
DF: Phil Jagielka - Everton - 1 Game, 1 Goal, 1 Assist, 2 Goals Conceded = 10 Points
Two straight matches with goals and appearances in our Team of the Week. The Everton defence has definitely struggled since the horrific injury to Seamus Coleman, but the big centre back is doing his best to stay fantasy relevant. If you own him you should definitely hold onto him through Saturday's match against travel averse Burnley.
DF: Luke Shaw - Manchester United - 1 Game, 1 Assist, 1 Clean Sheet = 10 Points
Just two weeks ago manager Jose Mourinho said Shaw was "a long way behind" his teammates at Manchester United. Well, times change quickly as the English left back has notched an assist in each of the last two matches. Whether he can hold onto his starting spot remains to be seen but, in our format, you can wait to see if he's named in the team before deciding if you want to bring him into your team.
MF: Andros Townsend - Crystal Palace - 1 Game, 1 Goal, 1 Assist = 11 Points
MF: Son Heung-Min - Tottenham - 1 Game, 2 Goals, 1 Assist = 17 Points
Son should have had a hat trick on Saturday against Watford but that won't keep owners from enjoying his 17 points. Now at 11 goals on the season, Son is clearly a must own when he's starting matches the question now is will he stay in the XI with Harry Kane re-entering the fold?
MF: Dele Alli - Tottenham - 1 Game, 1 Goal  = 8 Points
MF: Eden Hazard - Chelsea - 1 Game, 1 Goal = 8 Points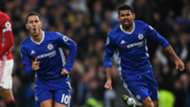 FW: Romelu Lukaku - Everton - 1 Game, 2 Goals = 10 Points
It seems as though people are waiting for Lukaku to come back to Earth and it just isn't happening. He leads the league in goals scored (23) and, with a four goal lead and kind remaining fixtures, should secure this season's golden boot.
FW: Zlatan Ibrahimovic - Manchester United - 1 Game, 1 Goal, 1 Assist = 10 Points
FW: Diego Costa - Chelsea - 1 Game, 2 Assists = 8 Points