Gaming
Fantasy Football: Mohamed Salah masterclass dominates Goal's Team of the Week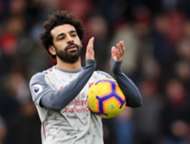 Another round of Premier League action has come and gone with title favourites Manchester City suffering their first defeat of the campaign. It was better news for the traditional "Big Six" though as Liverpool, Chelsea, Tottenham, Arsenal, and Manchester United all picked up wins, re-establishing their grip on the leading positions.
Naturally, that success bled into the Fantasy sphere as well, which is quite evident in our Team of the Week as eight of the 11 members coming from those five clubs.
GK: Kepa Arrizabalaga - Chelsea - 1 Game, 5 Saves, 1 Clean Sheet = 9 Points

DEF: David Luiz - Chelsea - 1 Game, 1 Goal, 1 Clean Sheet = 14 Points
In Chelsea's last high-profile match, against Tottenham, Luiz was an absolute liability. Well, Luiz made sure that would not be the case in the Manchester City match this weekend. Not only did the Brazilian defender help keep the league's best attack at bay, but he also added the match's second goal which sealed the win for the Blues.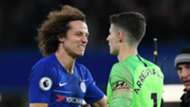 Now, the London outfit rank second in clean sheets with eight and, considering their easy run of fixtures, Luiz looks a solid Fantasy prospect going into the new year.
DEF: James Tarkowski - Burnley - 1 Game, 1 Goal, 1 Clean Sheet = 14 Points

DEF: Ashley Young - Manchester United - 1 Game, 1 Goal, 1 Assist, 1 Goal Conceded = 11 Points

DEF: Andrew Robertson - Liverpool - 1 Game, 1 Assist, 1 Clean Sheet = 10 Points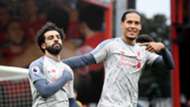 MID: Mohamed Salah - Liverpool - 1 Game, 3 Goals = 20 Points
After what some considered a slow start from last season's Golden Boot winner, Mohamed Salah has now reclaimed his throne in the Goal game, leading all players with 106 points.
This comes off the back of his hat-trick performance against Bournemouth on Saturday which was more than enough to make him our Fantasy Player of the Week.
With Eden Hazard falling off the pace, and the continued rotation issues amongst the Manchester City midfielders, Salah is an easy must-own, with captaincy potential each and every week
MID: Juan Mata - Manchester United - 1 Game, 1 Goal, 1 Assist = 11 Points
MID: Diogo Jota - Wolves - 1 Game, 1 Goal, 1 Assist = 11 Points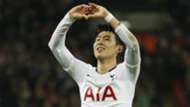 MID: Son Heung-min - Tottenham - 1 Game, 1 Goal, 1 Assist = 11 Points
Through 12 weeks Son had started just three times and failed to contribute towards a single goal. Since then, however, the Tottenham man has started every match with only Salah (eight) scoring more goals than the South Korea international.
There are obviously a lot of mouths to feed in the Tottenham attack but, with the kind of form he's in, if you see Son in Mauricio Pochettino's squad, he should probably be in yours as well.
MID: Felipe Anderson - West Ham - 1 Game, 1 Goal, 1 Assist = 11 Points

FOR: Marcus Rashford - Manchester United - 1 Game, 1 Goal, 2 Assists = 13 Points
Where has this Manchester United been all season? Jose Mourinho's side scored four goals against Fulham on Saturday, their highest tally in any match this term.
Marcus Rashford was largely the catalyst for the attacking drive. contributing heavily to three of the goals. His four assists in the last three matches are joint-best in the division and the fact that the 21-year-old seems to have carved out a starting place definitely puts him on the Fantasy map. That said, It's probably wise to avoid most Manchester United players this week as they come up against Liverpool's league-best defence.