Gaming
Fantasy Football: Cahill, Bellerin & the five most expensive defenders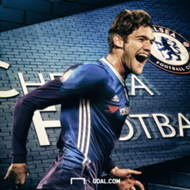 Defenders have become more and more important in Fantasy in recent years, and for good reason. In the Goal game, defenders can earn five points for clean sheets, three points for assists, and a whopping seven points for goals.
This point distribution leads to an interesting choice for Fantasy owners. Would you rather pay the cost for big club defenders who are more likely to keep clean sheets, or play matchups with lesser known differentials? Would you rather load up on wingbacks for their assist potential, or centre backs for their aerial threat on set pieces? The choice is yours.
Don't forget, you can earn 200 Goal Credits just for registering a team ahead of Match Day One this weekend!

Marcos Alonso - Chelsea, £6.6m, owned by 26.52% of players
The Spaniard moved to Chelsea after the season had already started, but what an impact he made. Not only was he the best defender in the Goal game last season, with his six goals, five assists, and 15 clean sheets, but he finished the year in the top 10 overall (174 points). Buy!
Toby Alderweireld - Tottenham, £6.5m, owned by 17.6% of players
Alderweireld is arguably the best centre back in England, and he has the Fantasy price to match. While not a frequent goal scorer, the big Belgian has led Tottenham to the fewest goals allowed each of the last two seasons. He may not be flashy, but he is very consistent.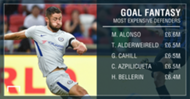 Gary Cahill - Chelsea, £6.5m, owned by 12.69% of players
The Chelsea man popped up with loads of goals last season (six), scoring the same as his previous four Premier League campaigns combined. Regression will certainly come for Cahill this term and he may not have a guaranteed a spot as you may think with Antonio Rudiger signing and Andreas Christensen returning from his loan spell.
Cesar Azpilicueta - Chelsea, £6.5m, owned by 10.88% of players
Oh look, another Chelsea defender. Though that tends to happen when your team have the most clean sheets in the Premier League. If Azpilicueta was ever to return to a wingback role he would be much more valuable, but even in this current Blues system, he will likely end the year as a top 10 defender again.
Hector Bellerin - £6.4m, owned by 10.33% of players
There are few players I'm less interested than Bellerin this year. He still carries a premium price that he earned two seasons ago despite finishing outside the top 10 of defenders and 72nd overall. To make things worse,
Arsenal
's back line is not what it once was failing to make the top five defences for the first time in years.