WTF
EXTRA TIME: Watch Siyabonga Nomvethe's record-breaking goal against Mamelodi Sundowns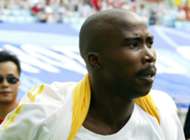 AmaZulu striker Siyabonga Nomvethe came from the bench to draw his level in a league match which Cavin Johnson's men went on to win 2-1 on Saturday. 
It was Nomvethe's 111th PSL goal, making him the all-time PSL top goalscorer since the inception of the new era in 1996.
While there are contrasting reports about the 39-year-old's goalscoring record, what matters the most at this stage is that he has scored more goals in the elite than anyone else in the last 21 years. 
Here is Nomvethe's 79th-minute against the Brazilians in Tshwane. 
Siyabonga Nomvethe's goal @AmaZuluFootball pic.twitter.com/1auv3NeZx1

— AbsaPrem (@PSL_TV) October 22, 2017
Meanwhile, football fans on Twitter were full of praise for Nomvethe, who had two spells in Europe between 2001 and 2009. 
Siyabonga Bhele Nomvethe...

— Nate (@Nator_Da) October 22, 2017
Siyabonga weBhele Nomvethe🙏

— Number 1 Tsotsi (@SimthoDladla) October 22, 2017
Skhomo is really hurt shem. Great for Nomvethe to be the record scorer ye PSL

— Baba ka Mbuzi (@_Themusa) October 22, 2017
Siyabonga "Bhele" Nomvethe is a living PSL legend with 111 goals to His name in the South African top flight. ..

— Surprise Sebothoma (@Di_masuper) October 21, 2017
When Nomvethe started playing PSL football Lyle Foster,Keletso Magalwa and Wiseman Meyiwa were still being planned #AbsaPrem #SSDiski.

— Lloyd Kholopane (@LloydKholopane) October 21, 2017
Siyabonga Nomvethe scored today vs Sundowns.He'll be 40 on December.Glad to see that he's going strong.Model of longevity for youth. #Crack

— Lotfi Wada (@LotfiWada) October 21, 2017
Some couldn't believe that Nomvethe is still playing football. Well, at 39, he is still active. 
Siyabonga Nomvethe is still playing football?
Sundowns lost to a team with a 40 year old man as a striker?
😂 😂 😂 😂 😂 😂 😂 😂 😂 pic.twitter.com/HCouppKEkS

— ✖️❌❎ (@xMukovhe) October 21, 2017
Lol Nomvethe still plays and he's the man of the match?

— Ernestein (@mazz706) October 21, 2017