PSL
EXTRA TIME: Twitter reacts to Ajax Cape Town's loss of home ground against Chippa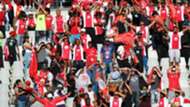 What's happening in Cape Town? Here's a statement from Ajax Cape Town's official site:
"It is with great regret that due to matters beyond our control we as Ajax Cape Town, the premier club in the Mother City, have to move our upcoming home game against Chippa United – scheduled for Saturday 09 December 2017 – to Bidvest Stadium, in Johannesburg.
"The Athlone Stadium authorities have suspended football activities at the facility until further notes & due to the upcoming Sevens Tournament at the iconic Cape Town Stadium – set to take place on 09 & 10 December 2017 – we have been forced to take our home match elsewhere.
"As one can imagine, this is a far from ideal situation and we want to take this opportunity to apologize to the #UrbanWarriors faithful.
"We'd also like to take this opportunity to thank Bidvest Wits and Wits University for availing their ground at the eleventh hour for our use. It is highly appreciated.
"Ajax Cape Town would also like to thank the Athlone municipality who went out of their way to accommodate our recent clash against AmaZulu, during the severe drought which has affected millions of people across the Western Cape region.
"Thank you to the fans and the Premier Soccer League (PSL) for all your understanding, and apologies once more for any inconvenience caused."
You can read the club's posts on Twitter, the fans and the PSL's reactions below:
ANNOUNCEMENT:

It is with great regret that due to matters beyond our control we as Ajax Cape Town, the premier club in the Mother City, have to move our upcoming home game against Chippa United - scheduled for Saturday 09 December 2017 - to Bidvest Stadium, in Johannesburg. pic.twitter.com/odmytJuudb

— Ajax Cape Town (@ajaxcapetown) November 30, 2017
As one can imagine, this is a far from ideal situation and we want to take this opportunity to apologize to the #UrbanWarriors faithful.

— Ajax Cape Town (@ajaxcapetown) November 30, 2017
The Athlone Stadium authorities have suspended football activities at the facility until further notes & due to the upcoming Sevens Tournament at the iconic Cape Town Stadium - set to take place on 09 & 10 December 2017 - we have been forced to take our home match elsewhere.

— Ajax Cape Town (@ajaxcapetown) November 30, 2017
We'd also like to take this opportunity to thank Bidvest Wits and Wits University for availing their ground at the eleventh hour for our use. It is highly appreciated.

— Ajax Cape Town (@ajaxcapetown) November 30, 2017
What is happening in Cape Town. I think @CapeTownCityFC is more premier in Mother City.

— Mandla Sobethu (@Mandla_Sobethu) December 1, 2017
What is happening in Cape Town. I think @CapeTownCityFC is more premier in Mother City.

— Mandla Sobethu (@Mandla_Sobethu) December 1, 2017
Official Statement from the @OfficialPSL regarding the matter: pic.twitter.com/bFHeXwV7RY

— Ajax Cape Town (@ajaxcapetown) November 30, 2017
@nealcol bcoz cape province they hate soccer but if is ruby the plan will be available

— Mishack (@kaMgabhi13) December 2, 2017
The city of CT has pulled a double on both Ajax n CTC by not availing CT stadium meant for soccer (WC2010) to soccer teams in CT. Its a rugby n music festival now.

— Nesiyo (@SelopyaneOptom) December 2, 2017
You do not have enough fans to fill up Cape Town Stadium let alone Athlone

— MTHETHELELI MAZWAI (@MTHETHELELISAMU) December 2, 2017
Let's just call it out. Local soccer plays second fiddle in CT when it comes to hosting of events. This is because of the interest of a few and for commercial reasons. The fans are the losers here. @ZolaDoda

— Tony Short (@tshortza) December 2, 2017
Thats my question as well. @CityofCT is clearly a failed institution. Biased towards rugby & cricket all the time. This is unbelievable.

— Liberty S Mazumber (@mazumber) December 2, 2017
#UrbanWarriors forced to move home fixture to Johannesburg.

https://t.co/pX9NWA8HgI#WeAreAjaxCT  pic.twitter.com/NhntvHkJx5

— Ajax Cape Town (@ajaxcapetown) November 30, 2017