Sulley Muntari
Extra Time: Muntari denies reports of an arrest in Italy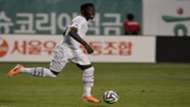 Ghana midfielder Sulley Ali Muntari has refuted media reports that he was arrested by the Italian Police on Tuesday and his car seized after allegedly failing to pay the appropriate funds for rentals.
However, according to Muntari's representative Massimo D'Onofrio, he revealed that the former AC Milan and Inter midfielder is not finding difficulties with finances and insists he's working around the clock to resolve the issue.
WHY ALWAYS ME!!!! 🤦🏿‍♂️🤦🏿‍♂️🤦🏿‍♂️🤦🏿‍♂️Gianluca Di Marzio :: Muntari, comunicato ufficiale di smentita https://t.co/EVtVM3WlO6

— Sulley Muntari (@MuntariOfficial) September 12, 2017
"Mr. Sulley Muntari has instructed our Studio to draft and disseminate this release in reference to the news that appeared on several online newspapers about the seizure of the car he drives," D'Onofrio said in a statement.
"The fact, labeled as the effect of major economic difficulties is the consequence of a mere dislocation of the leasing company (contractual subject). Mr Muntari, who did not know the disguise, is working to resolve it in the immediate aftermath. In any case, Mr Muntari stressed that there were no difficulties in which he would be doing according to the version of the facts reported by various newspapers.
"Therefore, the editors interested are invited in a timely correction or publication of this denial," the statement added.
Ghana captain Asamoah Gyan had also thrown his support behind Muntari and says he has to ignore the media reports.
Ignore negativity and stay focus bro. I know you too strong for this bro. 💪🙏

— ASAMOAH GYAN (@ASAMOAH_GYAN3) September 12, 2017
Muntari is currently a free agent after mutually terminating his contract with Pescara in July, following the club's relegation from the Serie A last season.