EXTRA TIME: Mark Fish ripped apart on Twitter after posting wrong 'Hugh Masekela' picture
Former Bafana Bafana and Orlando Pirates defender Mark Fish needed a place to hide as his tribute to fallen legendary musician Hugh Masekela went completely wrong. 
Fish initially posted a picture of himself with Sipho 'Hotstix' Mabuse, before quickly removing it after being made aware that the man he was standing next to was actually not Bra Hugh.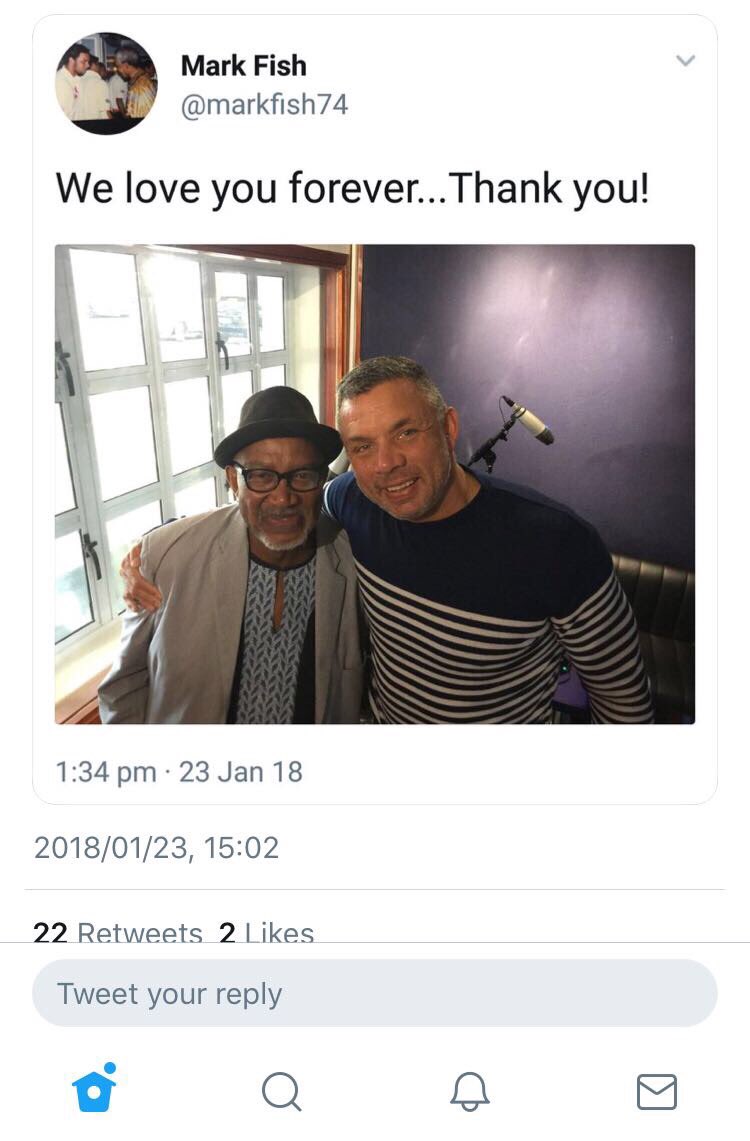 Twitter had a field day, and Fish's followers, including two the PSL teams from Cape Town, reacted humorously to the 43-year-old's initial tribute to Masekela even a day after the tweet was posted and removed online. 
Mark Fish with Cyril Ramaphosa and Jabu Pule. pic.twitter.com/ULVIUm3VZk

— Thato Patrick (@thatopatrick) January 24, 2018
#MarkFish with Tupac pic.twitter.com/OKSFJF5EaL

— Public Protester (@Pasco_e) January 24, 2018
Head coach Muhsin Ertugral & #MarkFish at training this morning.

🤭😅😏 pic.twitter.com/96ZhRU5Ba5

— Ajax Cape Town (@ajaxcapetown) January 24, 2018
Mark Fish and rapper AKA pic.twitter.com/zAiCVpfaqV

— Simmi Areff (@simmiareff) January 24, 2018
Mark Fish with DJ Fresh. pic.twitter.com/auG8RERalH

— Obi-Wan Kenobi (@KingBiyela) January 24, 2018
Cape Town City head coach Benni McCarthy celebrates winning the UEFA @ChampionsLeague with his former coach Mark Fish 🏆 pic.twitter.com/PGSpbGSAi4

— Cape Town City FC (@CapeTownCityFC) January 24, 2018
'Hotstix' Mabuse, the musician pictured with Fish, also had something to say about the mix up, assuring the legendary footballer that he was alive and well. 
#MarkFish I am very much alive - oops ask my family or manager @MartinMyers or @BillyMonama - I am alive and well pic.twitter.com/5MWU2Hyhup

— Hotstix (@siphohotstix) January 23, 2018
Fish quickly apologised for the mix up, and later posted the correct picture of Masekela, but it looks like the apology fell on deaf ears as Tweeps continue to find it funny. 
Sorry wrong picture earlier

— Mark Fish (@markfish74) January 23, 2018
We love you Hugh and thank you for the awesome memories pic.twitter.com/1tSERtYSzf

— Mark Fish (@markfish74) January 23, 2018