World Cup
EXTRA TIME: Kenya reacts as England reach first semi-final in 28 years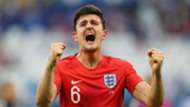 Maguire and Dele Alli gave England a deserved 2-0 win over Sweden in the quarter-finals on Saturday.
Maguire opened the scoring in the 30th minute at the Samara Arena and Alli doubled the lead after the break as Gareth Southgate's young squad continued to defy dampened pre-tournament expectations with another confident display.
For once, it was not Harry Kane who claimed the plaudits as the tournament's top scorer was kept quiet, but England found another hero at the other end of the pitch as Jordan Pickford produced three superb saves to deny Sweden.
Here is how a few Kenyans reacted to the win that put the Three Lions inches away from the final.
Lol god help us if they win...other world cups wil nt be acknowledged going forward...EPL matches wil be paused for moments of celebrations..the whole sky sports new wil be talking abt this for the nxt 4 years😂😂😂

— Charlie mavhaga (@Charlie_mavhaga) July 7, 2018
I can now confidently confirm that the 2018 world cup final will be between Belgium and England

— otenyo (@otenyof) July 7, 2018
And #ENG are through; now we wait for #RUS Vs #CRO at 9pm #WorldCup #TheScoreKE

— Carol Radull (@CarolRadull) July 7, 2018
Pickford done more for this country than Theresa May

— Antihero (@MansaCam) July 7, 2018
The kind of disses #ENG got before the #WorldCup and that they are now semo finalists proves that hata ng'ombe za zero grazing huishi kwa gated community

— Daniel N Wahome (@MistaWahome) July 7, 2018