WTF
EXTRA TIME: In memory of the Ellis Park tragedy between Kaizer Chiefs and Orlando Pirates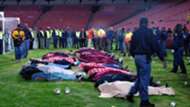 On Wednesday 11 April 2001, 43 supporters went to watch the Kaizer Chiefs vs. Orlando Pirates Soweto Derby, but they never returned home.
The 43 fans were killed in a stampede while 250 more were injured at Ellis Park stadium in Johannesburg on that day.
A police spokesman stated that 120,000 fans were at Ellis Park, which has a capacity for 60,000. It is believed that a further 60,000 were cueing outside.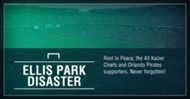 Rest in Peace: The names of the 43 supporters of the Soweto clubs:
Madikana Samuel Selepe, 39, Diepsloot Johannes Mandla Mthembu, 36, Palm Springs, Vaal Johannes Motlasi Letsoara, 35, Potchefstroom Sphiwa Esrome Mpungose, 13, Burgersdale, West Rand Ivan Jeffrey Bezuidenhout, 39, Potchefstroom Mbulelo Diniso, 25, Orlando East Veleta Eunice Mouton, 26, Windmill Park, East Rand Rosswin Andre Nation, 11, Ennerdale Pretty Lephina Phatsisi, 26, Balfour Jabu Maliyon Mkhize, 33, Delmas Alpheus Sethlake, 41, Alexandra Gideon Mudau, 34, Kromdraai, Midrand Jabulisile Xaba, 25, Berea, Johannesburg Danny Tigerls, 30, Pietersburg Angelina Mncube, 28, Joubert Park, Johannesburg Callistus Dumisani Dube, 29, Balfour Park, Johannesburg Mduduzi Thomo, 27, Jabulani, Soweto Tsietsi Daniel Wae, 54, Kagiso Michael Tsolo Nyakane, 41, Orkney Steven Modise Tshetlo, 42, Delpark, East Rand Calvin Arnolds, 34, Ennerdale Lefa James Lefera, Gauteng Rakgabo Frans Shongoane, 34, Pretoria Ernest Mandla Moyo, 33, Berea, Johannesburg John Oupa Mbambata, 34, Delareyville Deborah Selina Maphanga, 25, Duduza Thandi Merrium Thabethe, 23, Standerton Abel Tshabangu, 35, Diepkloof, Soweto Elias Ngomane, 21, Johannesburg Nkosana Elliot Hlongwane, 40, Katlehong Nhlanhla Meshack Zulu, 30, Duduza Raymond Mfana Gwala, 47, Zamdela Senki Jacob Mzizi, 47, Tsakane Stanley Tshikovhi, Tembisa Selaala Pae Maloma, Schoononborg Gugu Majozi, Jabulani, Soweto Maggie Luthuli, Protea Glen, Soweto Robert Molako, Atteridgeville. Kenneth Msimango, Thokoza Frans More, Dobsonville Jabulane Raymond Baloi, Tembisa Bafana Isaac Mabuza, Tembisa Mampo Rinah Ntsoane, Berea, Johannesburg
A post shared by alpheusmaphosa@gmail.com (@vina_maphosa) on Apr 11, 2017 at 1:44am PDT
The Bucs face Maritzburg United tonight at Orlando Stadium, on the day that we remember the Ellis Park Disaster. More than just a game day pic.twitter.com/cDIf7DPFcd

— Orlando Pirates FC (@Orlando_Pirates) April 11, 2017
"I'd like to thank Ellis Park for allowing us to hold a commemoration today. The PSL never responded to our emails"-Mrs Nation #EllisPark43

— Tracksuit (@ThabisoMosia) April 11, 2017
On this day in 2001•At least 43 people were killed in a stampede at Ellis Park•The beautiful game turned into a tragedy #EllisPark43 #RIP pic.twitter.com/qO4rC4SUnU

— #POWERLounge (@AB_Broadcaster) April 11, 2017
"Last year we went to lay a wreath 15 years later and Ellis Park came to the party and said we can come back this year"- #EllisPark43

— Tracksuit (@ThabisoMosia) April 11, 2017
On this day we remember the 43 football supporters who lost their lives during the Ellis Park Disaster on 11 April 2001 #EllisPark43 pic.twitter.com/GtejR0I4jY

— Gagasi FM Sports (@GagasiFMSports) April 11, 2017
For the fans of @Orlando_Pirates & @KaizerChiefs that went to Ellis Park and never went home - We remember you. pic.twitter.com/Ec1DlhYR4O

— Osasu Obayiuwana (@osasuo) April 11, 2017
We remember the 43 people who lost their lives in the Ellis Park disaster during the Soweto Derby... 11/04/2001

Long live!

— Negrophile (@Rre_Kgatle) April 11, 2017
Remembering Ellis park stampede 2001 RIP

— Madame Butterfly (@LeboLola) April 11, 2017
16 years ago we lost 43 supporters at Ellis park stampede..pls my @Orlando_Pirates rememba the ghosts do it for them 2nite WIN. @thandi_399

— T-Man Shandu (@Tman_Shandu) April 11, 2017