WTF
EXTRA TIME: How South African media reacted to Liverpool beating Manchester United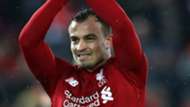 Manchester City, Arsenal, Chelsea and Tottenham fans may complain that they're playing better than United recently. Should there be a bigger game in the top flight?
The history between Manchester United and Liverpool is most passionately followed in South Africa.
We have a look at how the South African media reacted to the game on Twitter, after Liverpool beat United 3-1 at Anfield on Sunday.
All this talk about Klopp and trophies is meant to unsettle Liverpool. Anyone with a brain knows trophies are handed out toward the end of the season. That's when u can criticize. Doing it mid-season creates fear of failure, the last thing any winning team needs to think of @lfc

— Ignat Football (@IgnatFootball) December 16, 2018
As a @ManUtd fan I'm already preparing myself for the loss we about to suffer today

— Jermaine Seoposenwe (@jermaine109) December 16, 2018
#AllezAllezAllez pic.twitter.com/Yiuws2kT3m

— Liverpool FC (@LFC) December 16, 2018
United won't bounce back

— Marks Maponyane (@MarksMaponyane) December 16, 2018
GOOOOOOOOAAAAALLLLLLLL!!!!!

Liverpool 3-1 Manchester United

Shaqiri 80'

— robertmarawa (@robertmarawa) December 16, 2018
Liverpool keeps their unbeaten run alive in the 2018-19 Premier League season by hammering Manchester United by 3 goals to 1 at Anfield.

— Smangaliso Mdluli (@SimangalisoMdl2) December 16, 2018
Like I said. Trash!! This Man U is trash!!

— Mpho Letsholonyane (@M_Letsholonyane) December 16, 2018
Very few players left with that mindset... pic.twitter.com/3p0pvDVdpb

— Rulani Mokwena (@coach_rulani) December 17, 2018
December 16, 2018
Mourinho will tell the media where to get off if they ask questions he doesn't like o tla utlwa🎙🎙🎙

— Marks Maponyane (@MarksMaponyane) December 16, 2018
Jurgen Klopp this month:

Brings on Origi against Everton, scores 300 seconds later.

Brings on Firmino against Burnley, scores 300 seconds later.

Brings on Shaqiri against Man United, scores 300 seconds later.

— Smangaliso Mdluli (@SimangalisoMdl2) December 16, 2018
As for Manchester United's problems. There are so many I can't fit them in a Tweet, but here's 1 point: Look at how Jurgen Klopp hugged his players after the game (as usual) regulars or not, Jose Mourinho obviously doesn't come anywhere near in breathing squad confidence #MUFC

— Ignat Football (@IgnatFootball) December 17, 2018
This is quality from Klopp. Generally, a manager that speaks with a lot of football detail. Simple yet extremely educational. Top  https://t.co/GFK0BklZV3

— Rulani Mokwena (@coach_rulani) December 17, 2018