African All Stars
EXTRA TIME: How Pierre-Emerick Aubameyang enjoys his off days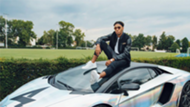 Arsenal star Pierre-Emerick Aubameyang has disclosed how he spends his time off the football pitch.
Since his arrival at the Emirates Stadium, the marksman has maintained a decent run of three goals in five league matches.
Owing to his inactivity with Gabon this month and his ineligibility to feature for the Gunners in the Uefa Europa League, the former Borussia Dortmund player revealed how he spends his break from football actions.
The 28-year-old fancies a trip abroad as an ideal treat for himself and also more family time with his spouse and kids.
"I'm a pretty straightforward guy. I enjoy being at home and of course I also like driving - I love cars," Aubameyang told club website.
"But other than that I enjoy spending time with my family.
"My ideal day off? I'd go to Spain, maybe go to the sea. I'd enjoy some free time with my children and my wife. Just that, really."