African All Stars
EXTRA TIME: Cape Town City excited to unveil Victor Obinna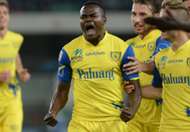 Just see how Cape Town City's provided us with a step by step introduction to Obinna.
Then there's a lovely photo of McCarthy welcoming the Nigerian to the Cape Town Stadium. 
Will Obinna fill the gap left by the departed Lebogang Manyama? We'll have to see what he's got left in him. 
If Benni can get him up to speed then he might have a few good years left to inspire City to success.
Today we welcome new CTCFC forward Victor Obinna, who has officially begun training with the team! #iamCityFC #Obinna17 pic.twitter.com/cMwZmfC2ai

— Cape Town City FC (@CapeTownCityFC) September 15, 2017
7. Victor Obinna has made 48 appearances for the Nigeria @NGSuperEagles scoring 12 goals. He played in the 2010 @FIFAWorldCup in SA.

🇳🇬 pic.twitter.com/UKv61NgPKs

— Cape Town City FC (@CapeTownCityFC) September 15, 2017
All 100 DC kits have been successfully completed and packed, ready to be handed over to all club's who'll be in action tomorrow#DareToDream pic.twitter.com/rkdgbC72HC

— Coach Justin (@DreamClub100) September 15, 2017
6. After 4 seasons at @fclokomotiv (2011-2016), Obinna had stints in Germany with @MSVDuisburg (2015/16) & @SVDarmstadt1898 (2016/17)

🇷🇺➳🇩🇪 pic.twitter.com/Ygww04gwg6

— Cape Town City FC (@CapeTownCityFC) September 15, 2017
5. From @WestHamUtd Obinna moved to Russian giants @fclokomotiv where he played for 4 seasons.

🇬🇧➳🇷🇺 pic.twitter.com/gZ7ynuoGE8

— Cape Town City FC (@CapeTownCityFC) September 15, 2017
4. After 1 season on loan in La Liga, Obinna made the move to @WestHamUtd where he played upfront with CTCFC coach Benni McCarthy. ⚒

🇪🇸➳🇬🇧 pic.twitter.com/xIHfrjb6CW

— Cape Town City FC (@CapeTownCityFC) September 15, 2017
3. From @Inter Obinna moved to La Liga on loan where he played 26 games for @MalagaCF, scoring 4.

🇮🇹➳🇪🇸 pic.twitter.com/ula7c7hk50

— Cape Town City FC (@CapeTownCityFC) September 15, 2017
In his first season, @Inter won the Serie A title as well as the Supercoppa Italiana. Muntari, Eto'o, Obi - were all there during the spell. pic.twitter.com/KWZeAoPZfb

— Cape Town City FC (@CapeTownCityFC) September 15, 2017
2. After an electric start to life in Serie A, Obinna was signed by Italian giants @Inter Milan making 9 appearances, 1 goal.

🇮🇹➳🇮🇹 pic.twitter.com/xoH7QUZvC6

— Cape Town City FC (@CapeTownCityFC) September 15, 2017
1. Born in Jos, Nigeria Obinna began his professional career at @ACChievoVerona where he made 92 appearances, 21 goals in Serie A.

🇳🇬➳🇮🇹 pic.twitter.com/wumLYT6vtp

— Cape Town City FC (@CapeTownCityFC) September 15, 2017