England v Switzerland
Explained: Why England vs Switzerland is in black & white on UK TV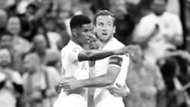 England take on Switzerland in their international friendly at the King Power Stadium on Tuesday evening - with TV viewers given a unique experience for the opening moments.
The live broadcast of the match will switch to black and white for 25 seconds as the players enter Leicester City's stadium ahead of kick-off.
But why is part of the England vs Switzerland game not being televised in colour?
---
Why is England vs Switzerland in black & white on UK TV?
---
To honour the 25th anniversary of the Kick It Out campaign, the opening 25 seconds of the England vs Switzerland game will be broadcast in black and white. 
It's the first time in nearly 50 years that black and white film will be used as default for a UK football-watching audience. It's to celebrate the impact the organisation has made in tackling racism and all forms of discrimination in the game since 1993. 
"We at Kick It Out are delighted with this gesture in recognition of our work to make football a better sport for all across the last 25 years," Kick It Out's chairman, Lord Herman Ouseley, said ahead of the game.
"We hope the footage will be a powerful reminder of how far football has come in the last 25 years to make the game a more open and diverse place - welcoming to all regardless of age, disability, gender, race, religion or sexual orientation."
The fixture is dedicated to Kick It Out by the FA and England players will also show their support by warming up in branded t-shirts and entering the pitch alongside eight mascots nominated by the organisation. 
---
What is the Kick It Out campaign?
---
The Kick It Out campaign formed in 1993 with the aim to tackling racism and all forms of discrimination in football. 
It deals with all levels of football from grassroots to international games and throughout every league, allowing people to report discrimination and for it to be dealt with by the relevant people. 
The FA has recently launched their 'In Pursuit of Progress' plan, which is part of their commitment to ensure there is diversity in those leading and governing football and better reflects what we see on the pitch in the modern game. 
---
What time is kick off and how can I watch the game?
---
The international fixture kicks off at 8pm at Leicester City's King Power Stadium. 
UK viewers will be able to watch the game on Sky Sports Main Event with coverage starting at 7pm. Fans in the US will also be able to watch the game via ESPN+ live stream.