UEFA Champions League
Every Champions League winner & who has won the cup the most times in history?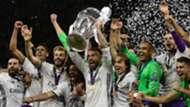 Real Madrid and Liverpool will contest the Champions League final this weekend.
Real progressed to the final by virtue of a thrilling 4-3 aggregate victory over Bayern Munich, while Liverpool defeated Roma 7-6 in one of the most entertaining two-legged ties in recent memory.
The two clubs have a storied history in European competition, but which clubs have won the most trophies on the continent?
---
Who has won the Champions League & European Cup the most times?
---
Real Madrid have won 12 European Cups and Champions Leagues, winning their first in 1956 and their most recent in 2017. They are gunning for their third straight win.
Milan come in second with seven victories, while Bayern Munich, Barcelona and Liverpool all have five.
A total of 22 teams have won the competition since its inception in the 1955-56 season.
---
Every Champions League final and European Cup winner
---
| Season | Winning team | Score | Losing Team |
| --- | --- | --- | --- |
| 1955-56 | Real Madrid | 4-3 | Stade de Reims |
| 1956-57 | Real Madrid | 2-0 | Fiorentina |
| 1957-58 | Real Madrid | 3-2 | Milan |
| 1958-59 | Real Madrid | 2-0 | Stade de Reims |
| 1959-60 | Real Madrid | 7-3 | Eintracht Frankfurt |
| 1960-61 | Benfica | 3-2 | Barcelona |
| 1961-62 | Benfica | 5-3 | Real Madrid |
| 1962-63 | Milan | 2-1 | Benfica |
| 1963-64 | Internazionale | 3-1 | Real Madrid |
| 1964-65 | Internazionale | 1-0 | Benfica |
| 1965-66 | Real Madrid | 2-1 | Partizan |
| 1966-67 | Celtic | 2-1 | Internazionale |
| 1967-68 | Manchester United | 4-1 | Benfica |
| 1968-69 | Milan | 4-1 | Ajax |
| 1969-70 | Feyenoord | 2-1 | Celtic |
| 1970-71 | Ajax | 2-0 | Panathinaikos |
| 1971-72 | Ajax | 2-0 | Internazionale |
| 1972-73 | Ajax | 1-0 | Juventus |
| 1973-74 | Bayern Munich | 4-0 (Match won after replay) | Atlético Madrid |
| 1974-75 | Bayern Munich | 2-0 | Leeds United |
| 1975-76 | Bayern Munich | 1-0 | Saint-Étienne |
| 1976-77 | Liverpool | 3-1 | Borussia Mönchengladbach |
| 1977-78 | Liverpool | 1-0 | Club Brugge |
| 1978-79 | Nottingham Forest | 1-0 | Malmö FF |
| 1979-80 | Nottingham Forest | 1-0 | Hamburg |
| 1980-81 | Liverpool | 1-0 | Real Madrid |
| 1981-82 | Aston Villa | 1-0 | Bayern Munich |
| 1982-83 | Hamburg | 1-0 | Juventus |
| 1983-84 | Liverpool | 1-1 (Liverpool won on penalties) | Roma |
| 1984-85 | Juventus | 1-0 | Liverpool |
| 1985-86 | Steaua București | 0-0 (Steaua won on penalties) |  Barcelona |
| 1986-87 | Porto | 2-1 | Bayern Munich |
| 1987-88 | PSV Eindhoven | 0-0 (PSV won on penalties) | Benfica |
| 1988-89 | Milan | 4-0 | Steaua București |
| 1989-90 | Milan | 1-0 | Benfica |
| 1990-91 | Red Star Belgrade | 0-0 (Red Star won on penalties) | Marseille |
| 1991-92 | Barcelona | 1-0 | Sampdoria |
| 1992-93 | Marseille | 1-0 | Milan |
| 1993-94 | Milan | 4-0 | Barcelona |
| 1994-95 | Ajax | 1-0 | Milan |
| 1995-96 | Juventus | 1-1 (Juventus won on penalties) | Ajax |
| 1996-97 | Borussia Dortmund | 3-1 | Juventus |
| 1997-98 | Real Madrid | 1-0 | Juventus |
| 1998-99 | Manchester United | 2-1 | Bayern Munich |
| 1999-2000 | Real Madrid | 3-0 | Valencia |
| 2000-01 | Bayern Munich | 1-1 (Bayern won on penalties) | Valencia |
| 2001-02 | Real Madrid | 2-1 | Bayer Leverkusen |
| 2002-03 | Milan | 0-0 (Milan won on penalties) | Juventus |
| 2003-04 | Porto | 3-0 | Monaco |
| 2004-05 | Liverpool | 3-3 (Liverpool won on penalties) | Milan |
| 2005-06 | Barcelona | 2-1 | Arsenal |
| 2006-07 | Milan | 2-1 | Liverpool |
| 2007-08 | Manchester United | 1-1 (Man Utd won on penalties) | Chelsea |
| 2008-09 | Barcelona | 2-0 | Manchester United |
| 2009-10 | Internazionale | 2-0 | Bayern Munich |
| 2010-11 | Barcelona | 3-1 | Manchester United |
| 2011-12 | Chelsea | 1-1 (Chelsea won on penalties) | Bayern Munich |
| 2012-13 | Bayern Munich | 2-1 | Borussia Dortmund |
| 2013-14 | Real Madrid | 4-1 | Atlético Madrid |
| 2014-15 | Barcelona | 3-1 | Juventus |
| 2015-16 | Real Madrid | 1-1 (Real won on penalties) | Atlético Madrid |
| 2016-17 | Real Madrid | 4-1 | Juventus |