NPFL
Etuemena: Heartland to remain silent on Madu for now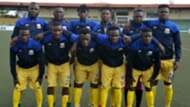 Heartland chairman, Chibuzo Etuemena has disclosed that no action will be taken on the latest outburst of their coach, Ramson Madu to the media to avoid distractions ahead of their two important away matches.
The Naze Millionaires were thrashed 3-0 by MFM in Lagos on Sunday and still have two more away games with Katsina United and Akwa United this weekend and next week Wednesday.
He informed that the management was not happy with the coach's statement in the media but that they will rather wait till the completion of their next two games which could play a vital role in deciding his future.
"We would rather not say anything on the outburst for now," Etuemena told Goal.
"We do not want anything to distract us from two important matches we have ahead against Katsina United and Akwa United. They are matches we are hoping to secure some points to cancel out the ones that we have lost at home.
"The outburst is so unfortunate but we will like to be silent on it for now."
The Owerri side coach was quoted to have expressed his angst at the inability of his players to play wholeheartedly for him while alleging that other forces were controlling them in the aftermath of their loss to MFM.
"I don't know what went wrong but my players did not come to play for me or the club," Madu was quoted in the media. 
"They played this match like an old match. I don't know. People have penetrated into my team to destroy me. People, my enemies have penetrated into my players to destroy me. They have succeeded."
Heartland are 16th in the league table with 13 points from 11 matches and anything other than positive results from their next two away games could see them slip deeper into the relegation zone.