Cristiano Ronaldo
Emre Can apologises for sexist slur in wake of Ronaldo red card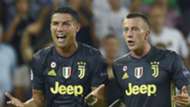 Emre Can reacted with stunned amazement after seeing a replay of Cristiano Ronaldo's red card against Valencia and has since apologised for his outburst.
Juventus' opening Champions League match of the season was locked scoreless midway through the first half when the five-time Ballon d'Or winner clashed with Jeison Murillo off the ball at the edge of the home side's penalty box .
After referee Felix Brych had consulted with his fifth official, a red card was brandished in the direction of the Italian side's big summer signing.
Ronaldo, who had scored his first goals for Juventus at the weekend , left the field in tears, and in the aftermath, it was a decision that proved much debated. His sister even claimed that there are forces at work "trying to destroy" her brother .
Can, too, was not sitting on the fence regarding the issue when he was shown a replay following the conclusion of a 2-0 victory for Juve, given to them by a couple of Miralem Pjanic penalties.
"That's supposed to be a red!?" he exclaimed when shown footage of the action by DAZN .
"I just heard that he said it was because of hair pulling. We're not women, we're playing football.
"If you're giving that as a red card, you can be sent off for any foul. One hundred per cent, that is not a red card."
Can has now issued a further statement, maintaining that he meant no offence.
He wrote on Twitter: "I would like to take a moment to clear the air regarding the comments I made after last night's game. My response after seeing the video footage of Cristiano's sending off seemed to have caused some commotion.
"I would like to state that the comments made were never focused on nor meant to degrade women, women's football or equality in any form. Everyone who knows me knows about my respect for women, equality and respect.
"My intention was to stick up for my team mate regarding a wrong decision which could have affected our game.
"I sincerely apologise if any of the comments I made have caused any harm."
Unless the decision is successfully overturned on appeal, Ronaldo will now serve an automatic one-match ban in European competition. Juve's next fixture in the Champions League is a home tie against Young Boys, but should UEFA see fit to hand him a harder sentence, he could miss a return to Old Trafford to face Manchester United, where the Italian champions are slated to play in the middle of October.
It was the first time that he has been sent off in the Champions League – a tournament in which he has emerged as a winner on five occasions, including each of the last three years with Real Madrid.
He is also the tournament's record scorer, having netted 120 on occasions, 17 more than Lionel Messi, who is next on the list.