NPFL
El Kanemi Warriors' Anthony Yesul eyes improvement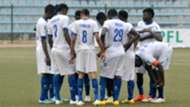 El Kanemi Warriors' Anthony Yesul has made a remarkable start to life with the Borno Army after scoring two goals in only his second game for the team and the Ghanaian has revealed he will not be carried away as they prepare for their top-flight fixture with Katsina United this weekend.
Issues regarding Yesul transfer to the Borno Army were laid to rest two weeks ago when he made his debut for the team against Lobi Stars which they lost narrowly but it was at his home first game that he distinguished himself with two goals in their 3-0 win against Heartland.
And he has promised to keep a low profile despite the adulation from friends and teammates.
"I am very happy to play in the Nigerian league and also happy to start life with the way I did," Yesul told Goal.
"I want to keep on improving and not allow the few goals I have scored to get into my head. I still believe there is a whole lot I have to improve on and as we face Katsina United this weekend I want to continue with that.
"We are not where we ought to be but I know that things will improve in our remaining matches in the first round and in the second round. We are playing very well and are going to bounce back very soon."