Real Madrid
El Clasico: Lopetegui's nightmare year could be complete as Real Madrid axe looms
Some say he's a dead man walking already, but if Julen Lopetegui can steer Real Madrid to victory at Camp Nou in Sunday's Clasico, the Spanish coach maybe – just maybe – could keep his job.
A dire start to the season, including an abysmal eight-hour goal drought, has seen Lopetegui backed into a corner and he must fight his way out on the biggest stage of all, club football's greatest game.
Beat Barcelona, the reigning Liga champions, leaders and Madrid's arch-rivals, and suddenly his situation looks salvageable, like that of Real themselves, who languish in eighth place but are only four points behind the Catalans.
Even though the Blancos are joint top of their Champions League group after beating Viktoria Plzen 2-1 on Tuesday, the horrendous, win-less month before has left Lopetegui's tenure in critical condition.
Four defeats and a draw after a narrow win over Espanyol on September 22 angered Real Madrid fans, with football's most spoiled supporters unaccustomed to suffering such sustained humiliation.
Matches against Sevilla, Atletico Madrid, CSKA Moscow and Alaves all passed without a goal for Madrid before Marcelo struck in last weekend's 2-1 loss at home to Levante, ending the drought at 481 minutes – the second-worst scoreless run in the club's history. 
President Florentino Perez has already started looking for replacements for Lopetegui, with former Madrid players Guti and Santiago Solari mentioned, along with ex-Chelsea boss Antonio Conte.
Despite reports earlier in the week suggesting the incumbent coach may be put out of his misery before Sunday's game, Real's director of institutional relations, Emilio Butragueno, confirmed Lopetegui would stay at the helm - for now.
"Lopetegui will be on the bench at Camp Nou like normal," the former Blancos forward said after the unconvincing victory over Plzen. "In these kind of situations, it is important to remain calm and trust the players. Sunday's game is a great motivation for us.
"(Speculation) is normal. This is football. We have heard the rumours, but we have confidence and hopefully we will play well at Camp Nou."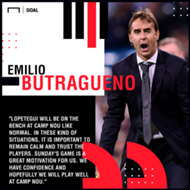 While two more strikes implied Madrid's travails in front of goal are over, the defence was sliced open multiple times by the Czech champions before a disappointed Bernabeu.
Had Plzen's finishing been any better, Madrid might have left with just a point.
"You do not change course in one day but I think today can be a turning point for us," said Lopetegui hopefully, but even he must now know that his future depends on the Clasico.
Given that Barcelona have played badly at times this season too, it is not unthinkable that Madrid could win at Camp Nou, though the Catalans impressed without Lionel Messi in Wednesday's 2-0 win over Inter in the Champions League.
There has also been an element of bad luck about Lopetegui's struggles. At times Madrid have played some good football but the ball has refused to go in.
They have struck the woodwork 11 times in all competitions this season: three times alone against Levante, where VAR also set them back.
That is not to say they have been unfairly hurt by the video referee, more that Lopetegui is the first Madrid coach to have to deal with it.
Both Madrid and Barcelona have benefitted from the rub of the green in the past with decisions that now aren't going their way.
This has contributed to a wild start to the season, where it has felt like any side could defeat any other.
Madrid's 3-0 win over Roma was a beacon in the dark, the one performance Lopetegui's team has produced that hinted at the dawn of an exciting new era; it appeared the side had character and the coach had a plan.
They have all looked lost in the interim, though.
However, given Lopetegui did not get key members of his squad back until late in the summer after the World Cup and no real replacement for Cristiano Ronaldo was signed, he has not been given a fair and full crack of the whip.
But justice is rarely served in football. Suffer defeat in the Clasico and it will be the end of the line for Lopetegui, a bitter end to what has been a torturous year.
It could have been so much better for the coach, who was crudely sacked from his position at the helm of the Spanish national team on the eve of the World Cup.
The president of the Spanish football federation, Luis Rubiales, took offence to the way Lopetegui agreed to take over at Real Madrid before the tournament and promptly axed him on the eve of La Roja's tournament-opener.
He had never lost a match as manager of his country and, given the quality in the Spain squad and his record, had Lopetegui been allowed to stay in Russia, he might have started the season a World Cup winner.
Instead, it was with bitterness at the way he was severed from his squad at the last moment and, combined with his struggles at Madrid, it is fair to say that 2018 has been a disaster for the former Porto manager.
Zinedine Zidane walked away from Real Madrid with three Champions League titles in the bank, leaving the door open for anyone brave enough to follow in his footsteps.
Lopetegui, who was not first, second or third choice, grasped at the role, declaring the day he took over as the happiest of his life; he had losing one dream job but landed another.
This dream has also descended into a nightmare, though, and only a Clasico victory will begin to haul him out of it.