Al Ahly
Partick Thistle report Egypt FA to Fifa for blocking Souleymane Coulibaly move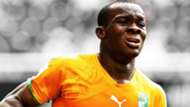 Scottish side Partick Thistle have confirmed that they have approached Fifa, through the Scottish FA, after the Egyptian Football Association (EFA) declined to issue an international transfer certificate (ITC) to Ivorian forward Souleymane Coulibaly.
Coulibaly fled Egypt in May last year after just four months into his three-and-a half year contract with Al-Ahly, claiming he was feeling unsafe in the North African country.
Al Ahly reported the Ivorian to Fifa who then ordered him to pay a fine of $1.4 million.
The EFA is declining to clear him to play for Partick Thistle. So, the Scottish outfit has now sought Fifa's intervention to resolve the matter.
"The Egyptian Football Association has confirmed that it has refused to grant an international transfer certificate (ITC) for Souleymane Coulibaly's proposed move to Partick Thistle Football Club," said the club in a statement.
"Despite being obliged to reply within seven days relative to a request for an ITC, the Egyptian FA has waited until the 14th day to refuse the request. As such, the Scottish FA has now asked Fifa to reject the refusal. Subsequently the Egyptian FA has been given until Friday (21/09) to provide additional information requested by the world governing body."
According to Partick Thistle, they are yet to make any financial commitments to the player, pending the resolution of the matter as per their contract with Coulibaly.