Premier League
Dreams FC appoint Juha Pasoja as new coach until end of the Ghana Premier League season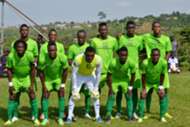 Ghana Premier League side Dreams FC have confirmed the appointment of Finnish coach Juha Pasoja until end of the season.
The 41-year-old replaces Karim Zito, who has been named as Ghana's U17 coach.
Pasoja, who arrived earlier this month, believes he is ready for the task after training with the team and watching their last two games.
"From day one, I've been excited to be here. We have very young and good players, and I like to work with such people," Pasoja said during his public presentation on Thursday.
"So far it has been interesting to participate in the training. I've watched two games and they've been very good games and results have been great.
"There's a couple of experienced players and young talent which is good because like I said earlier, I like to work with young players and develop them to the next stage and send them to Europe. We'll also try and achieve good results and maintain our place up on the log," he added.
Dreams are third on the table on 14 points, with Pasoja expected to make his bow in the dugout when they play Aduana Stars on Monday.