Tanzania
DR Congo help Tanzania in the latest FIFA ranking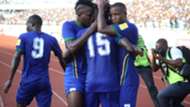 The Tanzania National Football Team, Taifa Stars has gone up nine places from 146th to 137th in the latest FIFA ranking. 
Stars who played two friendly matches with Algeria and DR Congo in March, were the lowest ranked country in East Africa in the previous ranking.
However, one defeat away to Algeria followed by an impressive 2-0 victory over DR Congo helped Taifa Stars to the achievement this month.
Uganda is still number one in East Africa after being ranked 74th in the world following by Kenya who have been placed in 113th.
Rwanda drop from 112 last month to 123 while Burundi have been named the lowest in East Africa after being placed 146th.
Tunisia still the African number one following their impressive friendly matches victories over Iran and Costa Rica and they have rose from 23rd  to 14th.