Transfers
Don't sack Montella! Even Conte wouldn't win AC Milan the Scudetto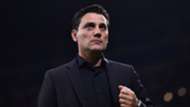 For Vincenzo Montella, Antonio Conte could not have picked a worse week to confess that he misses Italy.
The AC Milan coach already had enough to worry about before reports emerged that both Conte and Bayern Munich boss Carlo Ancelotti could be returning home next summer, with the latter having been surprisingly sacked by Bayern Munich.
Just four days after having declared himself understandably happy with his side's "positive start to the season" - nine wins from their first 10 matches in all competitions - Montella was left bitterly disappointed and utterly bemused by their 2-0 loss at Sampdoria.
It was not so much the result but the flat nature of the display which cast doubt on the former Italy international's ability to get the best out of a squad that had been strengthened by the addition of 10 players during the summer, at a cost of more than €200 million.
Milan sporting director Marco Fassone was so upset that he felt compelled to express his displeasure publicly.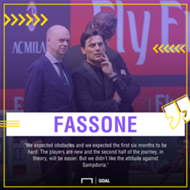 "Today we are angry and I have come to talk because these defeats should not be considered as routine," he told the press at the Luigi Ferraris. "There should have been confidence but we didn't see it on the pitch.
"Milan are stronger than Samp and need to approach the match in a different way. We've heard some alarm bells here today.
"We expected obstacles and we expected the first six months to be hard. The players are new and the second half of the journey, in theory, will be easier.
"But today we didn't like the attitude. There shouldn't be excuses and it needs to be changed quickly."
Montella's dramatic response was to fire fitness trainer Emanuele Marra. It was a decision that took many by surprise.
Firstly, there was the medium. Montella had only posted 13 previous messages since joining Twitter last year, so for him to announce a dismissal online - and not through official club channels - was bizarre.
Secondly, Montella had worked with Marra since his time in charge of the Roma youth team, so it felt like a rash move on his part.
However, he explained, "He wasn't the problem, but we had some differences and I didn't feel supported by him.
"I had to make a painful decision but I wish him all the best. But there was no longer complete harmony between us."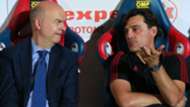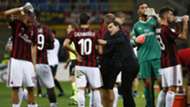 Certainly, Milan were strangely sluggish at Samp, with only two players, Franck Kessie and Lucas Biglia, covering more than 10 kilometres during a game in which the visitors failed to register a single shot on target.
Of course, one could argue that Milan are struggling physically because they have been playing twice a week since the middle of August, due to their participation in the qualification rounds of the Europa League and they turned in another laboured performance in the fortunate 3-2 win over Rijeka on Thursday.
However, Montella has been rotating his squad on a game-by-game basis. He has yet to select the same line-up in Milan's first 12 games of the season and even he concedes that his side's problem is more mental than physical.
"We're aware we have to create a winning mindset quickly," he acknowledged.
Leonardo Bonucci was supposed to help in that regard. The 30-year-old defender was the major coup of Milan's summer spending spree, a serial winner signed from Italian champions Juventus for €42 million.
However, Bonucci has, thus far, underwhelmed, looking desperately out of sorts in the 4-1 trouncing at Lazio in particular.
"I'm not happy with my performances for Milan so far, but there's a desire to respond on the pitch to what's been said," the centre-back stated before, tellingly, referring to Milan's broader mental malaise.
"Playing every three days is different to playing every seven, so recharging our minds is essential."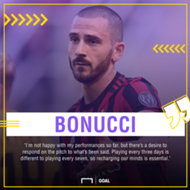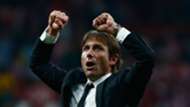 This is Montella's tricky task: turning a group of mostly young players unfamiliar with one another into a battle-hardened unit capable of going to war in each and every single game.
In that context, it is perhaps understandable why Milan's ambitious owners would be tempted to turn to someone like Conte, who often seems more like a drill-sergeant than a coach.
However, even the Chelsea boss would struggle to instantaneously instil consistency in young players still getting to know each.
As Paolo Di Canio told Goal before the season started when asked about Milan's chances of winning the league: "They have only brought in one top player who has won trophies, Bonucci. The others are not winning players. They are good players but they haven't won at the top level yet.
"When you make a revolution, it takes time."
Time is the one thing Montella doesn't have, though: while Milan director Massimiliano Mirabelli has denied any interest in the suddenly available Ancelotti, it is nonetheless being claimed that the current coach's long-term job prospects hinge on the outcome of the next two league games, against Roma and Inter.
However, Montella deserves patience. This, after all, is a man made of stern stuff. He knows how to cope with setbacks, having recovered from 13 separate injuries during his playing days.
"My career has always been made up of traumatic situations which helped me grow," he explained. "You can understand the values of a coach by his reaction to difficulty."
How his players react over the next two weeks, though, will be of greater importance to his Milan future. It is imperative that they are ready for the challenge, physically and mentally, and with Marra gone, it is now all on him.
However, Montella got them back into European competition. He can get them back into the Champions League.