Transfers
The most hated player in England, Diego Costa leaves Chelsea as an anti-hero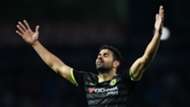 Hey, Premier League, who is going to be your pantomime villain now?! Diego Costa is returning to Atletico Madrid, meaning English football needs a new Public Enemy No.1.
The striker's exit from Chelsea has somewhat damaged his reputation amongst the fans, but when the dust has settled, he should be remembered as the truly fantastic player who made huge contributions to two league titles. 
Costa won't go down as a true Blues legend like Didier Drogba but he nonetheless made a massive impact at Stamford Bridge, with 58 goals in 120 games in all competitions.
He could have been as good as the Ivorian but the Spain international was involved in dust-ups throughout his time in England - his most recent leading to his departure.
A training-ground dispute with Antonio Conte ultimately prompted the Blues boss to inform Costa that his services were no longer required via text message, an ignominious end for such a passionate servant of the club. 
Costa undoubtedly always gave 100 per cent. He struggled to get to grips with the English language but he had no issue getting his vibrant personality across to the fans with his fiery performances on the pitch. 
On the pitch, his commitment to the Chelsea cause was total, his intensity immense. He was willing to do whatever it took - even fight dirty - in order to win silverware for all three of the coaches he played under.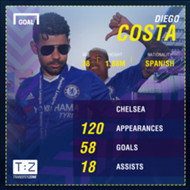 Premier League defenders feared Costa. He not only scored goals but also had the physique to bully defenders and the technique to link up to deadly effect with the likes of Eden Hazard, Pedro and Willian.
Despite struggling to adapt to English culture, he adapted easily to the English style of football. Indeed, he was an old-school No.9, a throwback to a bygone era. 
Bobby Tambling  - Chelsea's all-time top scorer for 47 years before Frank Lampard overtook his tally of 202 goals - is in no doubt that Costa would have also thrived in the more aggressive age in which he played.
"A player like Costa would be on every manager's wish-list," Tambling told Goal. "He scores goals anywhere he goes.
"He's not a Luis Suarez [in terms of skill] or anything like that, but his desire is so great.
"He is a wonderful player. He would have been a good player in any era of football."
Costa also brought smiles to the Chelsea dressing room. He was the joker in the pack, a prankster none of his team-mates could afford to turn their back on.
He was good with the young fans but he had no interest in dealing with English journalists, whom he believed had it in for him. 
Costa with a fire extinguisher! 😂😂😂🏆🏆🏆🔥 #cfc #wbache pic.twitter.com/lwMb6WIpzm

— Nizaar Kinsella (@NizaarKinsella) May 12, 2017
Costa took the mantle on from Luis Suarez as the most hated player in England, after the former Liverpool player left to add some bite to Barcelona's attack in 2014.
Just like Liverpool fans, Chelsea supporters always defended their anti-hero, who they felt was unfairly treated by both the Football Association (FA) and the media. The hashtag #CostaCrimes emerged as violent conduct charges were handed out. 
Costa will sadly not play football for a further three months because of Atletico's inability to register players until January on account of their transfer ban, but the Rojiblancos know that he will prove worth the wait.
Indeed, Diego Simeone is Costa's friend and a manager who understands him, having chased his signature for over year. 
Chelsea's sixth title wouldn't have been achievable had they sold him last summer, or even in January when Tianjin Quanjian were willing to pay more than the £58 million Atletico shelled out.
Blues fans will miss his fighting spirit and never-say-die attitude but the purists will certainly not be sorry to see him go.
However, it is Premier League defenders who will be most delighted to see the back of him - and that is the biggest compliment one can pay to the inimitable Diego Costa.
WATCH: The amazing moment @diegocosta & @DavidLuiz_4 invaded Antonio Conte's press conference! #CFC pic.twitter.com/EMPNDshvVx

— Goal UK (@GoalUK) May 13, 2017