Diego Costa
Diego Costa is a charitable prankster - Chelsea rebel not the monster he is portrayed to be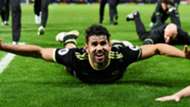 As he finally completes his move from Chelsea to Atletico Madrid, it's worth re-examining the reputation Diego Costa developed in England. 
Yes, he could be a bit emotional and erratic during matches, but away from the pitch, Costa is no villain. 
The 28-year-old was a popular figure in the Chelsea dressing room and he was loved by his colleagues, whether they were English, Spanish, Belgian or Brazilian.
Costa was known for his pranks at Chelsea. He used to steal the training ground staff's tractors and cause carnage whenever they left the keys in them, was often spotted wrestling his team-mates to the ground, and once put Eden Hazard in a cardboard box.  
On the pitch, Costa came across as aggressive, immature and mean-spirited but the people around him always dispute these assessments. Costa's image comes from his obsession with winning, which eventually made him the heir to Luiz Suarez's "most hated" title after the Uruguayan left Liverpool for Barcelona.
However, away from the pitch, Costa was often one of the most involved players when meeting the club's fans and enjoyed getting involved in charitable activities in London through the Chelsea Foundation.
His Instagram stories in Legarto, Brazil were ridiculed over the summer as he played football and partied with friends as his future remained up in the air. He was rightly criticised as he made the foolish mistake of filming himself in an Atletico Madrid shirt, but he has been refreshingly open about his desire to return to his old club.
The Brazil-born Spain international mostly spends his time off in his hometown with his friends and his family. His mother Josileide revealed in an interview that Costa makes generous donations to charitable causes in his impoverished hometown.
"He gives loads of donations," Costa's mother told Bleacher Report. "Diego doesn't want to make a big deal of it. The people I give them to keep asking: 'Is it a politician?' and I tell them just pray for whoever sent them."
There are many other stories along these lines, too. Most notably, Costa is funding the football school in Legarto that gave him his first chance of playing the sport. It is free for local children. 
Costa is a more complex character than he has been portrayed, but he will remain a supremely rich footballer after his £58 million move to Atletico Madrid.
However, he could have earned much more had his January move to Chinese club Tianjin Quanjian gone through. Tianjin were willing to pay Costa £600,000-a-week to make him the second-highest paid player in the world. The deal fell through and so did Costa's dreams to increase his ability to ease the poverty in his hometown of Legarto, where he was planning to invest much of his surplus money to transform the area.
WATCH: The amazing moment @diegocosta & @DavidLuiz_4 invaded Antonio Conte's press conference! #CFC pic.twitter.com/EMPNDshvVx

— Goal UK (@GoalUK) May 13, 2017
Costa's love of life seems to damage his image in football. The modern game is full of carefully crafted media personas and cautious footballers, who are understandably scared of losing their positions in the team by saying the wrong thing in public. 
In contrast, Costa expresses himself however he wants, but this has led to plenty of controversies. 
Barcelona Capela were Costa's first professional team in Brazil and club president Paulo Sergio Moura believes that Costa became temperamental only after moving to Europe.
"Incredibly, he was never a rebel," says Moura in an exclusive interview with Goal Brazil. "He was a rebel like any young man, he had his problems, but his rebellion was more because of a lack of money than anything else.
"He was rebellious because of this, but on the pitch, he was never that irreverent Diego that he is today. With us, he was always a team player."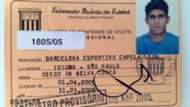 Moura continued: "I believe that's become a tendency for Diego, he saw himself needing to fill a specific role but it ended up becoming more of an obligation for him, a label. That's Diego's brand, he saw it as a good thing, despite the controversy. Most people see it negatively, but it hasn't brought bad things for him so far. It only grows, the media loves talking about it. The fans love him. If he leaves the club, I think Chelsea would fall apart.
"In Spain or Portugal, anywhere else he's been to, he's treated like a king. I believe he even likes being labelled, but deep inside he's a very good lad, a great person. He's outgoing, goofy, loves to talk, it's not malicious, ignorant or stupid. He's totally gentle outside the pitch, a nice guy."
Chelsea manager Antonio Conte won't admit it publicly, but Costa is the best striker that he has ever worked with. The club's decision to let him go was still right as they prioritised the collective group over the individual, but Costa will be missed.
Chelsea won the league last season, despite Costa going on strike and putting in multiple transfer requests. His insistence upon leaving caused problems behind the scenes, but he knew what he wanted and decided to return to a city that he prefers to call home. Perhaps some things are more important than football. 
It was an unpleasant end to an exciting spell in England, but there are no heroes or villains in this story, just individuals who went down different paths.