Nigeria
Coach Dennerby shifts focus to France friendly after botched Alanya Women's Cup trip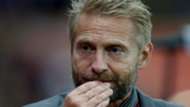 Nigeria women coach Thomas Dennerby says he is shifting attention to April's international friendly with France after the failed trip to Alanya Women's Cup in Turkey.
The Super Falcons concluded their Wafu Women's Cup tournament with a bronze and were expected to hit Alanya for the 12-team Turkish Women's Cup scheduled to kick off on Wednesday.
However, the competition's organisers canceled the nation's participation after it botched efforts of securing entry visas for its traveling players to Turkey.
And the Swedish gaffer says he has moved on from the situation as he vows to present a formidable side against the French team at the MM Arena in Le Mans.
"I don't care so much about that anymore. We tried to go and the organisers of the tournament in Turkey confirmed we could come," Dennerby told Goal.
"But they set up a deadline and we could not have everyone on the team ready for the trip. The decision has been concluded because the organisers already canceled our participation because we could not meet the deadline for completing the paper works.
"It is now in the past and there is no problem about that at all. I'm not looking on to the failed tournament anymore. Now, I will return to Abuja and keep working on getting my team prepared for the France friendly.
"We are going to have a great game against France. I'm satisfied with the support I'm getting from the Nigeria Football Federation, the coaching staff and everyone around me knows a lot about the game and they are very kind people.
"There are a lot coming up this year. The qualification and the Africa Women's Nations Cup itself and I really hope we can do well in the summer this year and qualify for the World Cup next year.
"But nothing good comes easy because we need to work hard and everybody including the players and officials have to work hard because to achieve anything on the pitch, you've got to work really hard for it."